Other News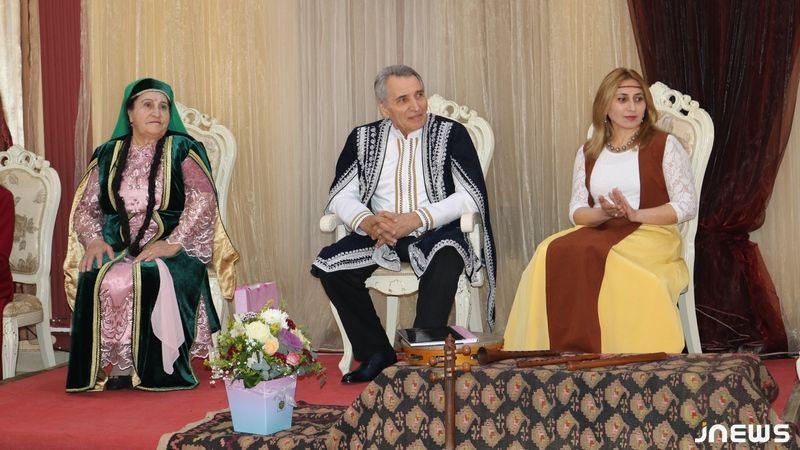 The Georgia Armenian Educational and Cultural Society on January 26, 2020, held an event to honor Ashugh Alik-Javakhk on the occasion of his seventieth birthday.
Many guests from Georgia and Armenia attended the event. They included Rev. Fr. Maghakia Amiryan, prelate of Samtskhe-Javakheti and Tsalka's General Prelacy, and other priests; Enzel Mkoian, member of the Parliament of Georgia; local government officials from Akhalkalaki and Ninotsminda; representatives of schools, museums, and community organizations; people active in various realms of culture; Gurgen Ezoyan, chairperson of the Aid to Javakhk fund; and family and friends of the honoree.
The prelate offered an opening prayer. Then the emcees talked about the legacy of troubadours or ashughs in Javakhk and presented Ashugh Alik-Javakhk. They discussed his past and his work. They were accompanied by Mr. Alik-Javakhk's creations, performed by students of the Komitas Conservatory, his students, and students of the Akhalkalaki ashugh school. To honor Mr. Alik-Javakhk, the troubadour Leyli, a native daughter, was in attendance, and she gave him a copy of her collection, Tagharan, and performed a song dedicated to him. The audience also deeply appreciated a performance by the artistic director of the Nubar Armenian traditional song and dance group, Lusine Nazarian—another native daughter. She is also in charge of music programming for Armenia's Public Radio.
Several guests addressed messages of congratulations to Mr. Alik-Javakhk and gave him gifts. The prelate congratulated Mr. Alik-Javakhk and gave him a bible. The little carpet weavers of the Ninotsminda Youth Educational and Cultural Center gave him a carpet that bore his image. The carpet weaver Ofelia Ispirian, a resident of the village of Dedesh, gave him a carpet that bore the image of Saint Mary of Nazareth, the mother of Jesus. One gift to the honoree was the performance of a song by the Yerevan conservatory student V. Piloyan.
Those who were unable to attend sent messages of congratulations. The president of the Sayat-Nova Cultural Association and director of the Sayat-Nova ensemble Tovmas Poghosyan sent his congratulations by video.
To wrap up the evening, Mr. Alik-Javakhk spoke about his plans for cultural life in Javakhk. He thanked everyone and especially the Georgia Armenian Educational and Cultural Society for organizing the unforgettable celebration. The program ended with a performance of the proud dance "Yarkhushta" by the boys of the Javakhk Folk Song and Dance Ensemble.
The party continued, however.