Regional
USA & Canada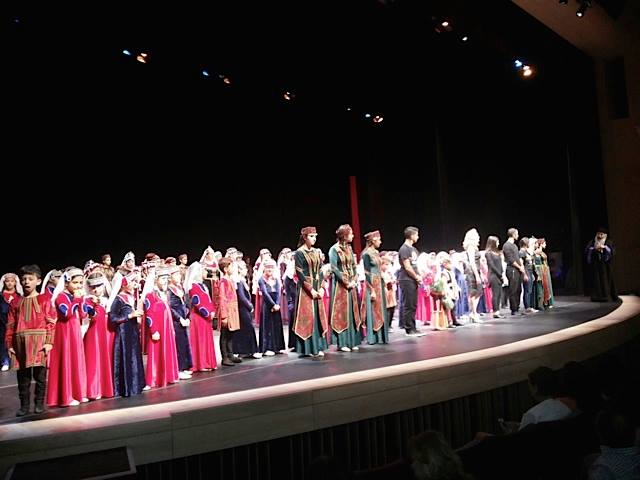 Hamazkayin "Sanahin" Chapter's  "Ani" Dance Groupe's Juniors' annual performance was held on Sunday, September 13, 2015 at the College Regina Assumpta's amphitheatre. Close to 650 culture-loving friends, family and guests were present at the show, which was organized by the "Sanahin" chapter's dance group committee.
Anita Tobi, member of the Sahanin chapter's executive gave the opening speech, where she thanked the 150 young dancers, their parents, the dance committee, the teacher's aids, and the costume committee for their cooperation and contribution. She also gave special thanks to the choreographer and director of the show, Mrs. Eva Hayrabetian for her continuous, meticulous and devoted work.
Guests and dancers alike were overwhelmed by the joyful atmosphere that rained in the hall.  Those present witnessed traditional and provincial Armenian dances such as Sasna Yarkhoushda and Vasbouragan. There was an ambiance of familiarity and enjoyment that could be felt by everyone.  
At the end of the performance, H.E. Bishop Meghrig  Parikian, prelate of Canada, gave his blessings, where he emphasized the importance of the work done by Hamazkayin to ensure the survival and progress of the Armenian culture. Addressing the junior dancers, Bishop Parikian said: " With your dances, you will conquer the enemy"
Outside the hall, parents had organized a bake sale, where the profit would be donated to Ani Dance Troup to provide the dancers with new Armenian traditional costumes.
The Montreal Armenian community was able to witness a perfect example of a cultural re-birth through this performance.