Other News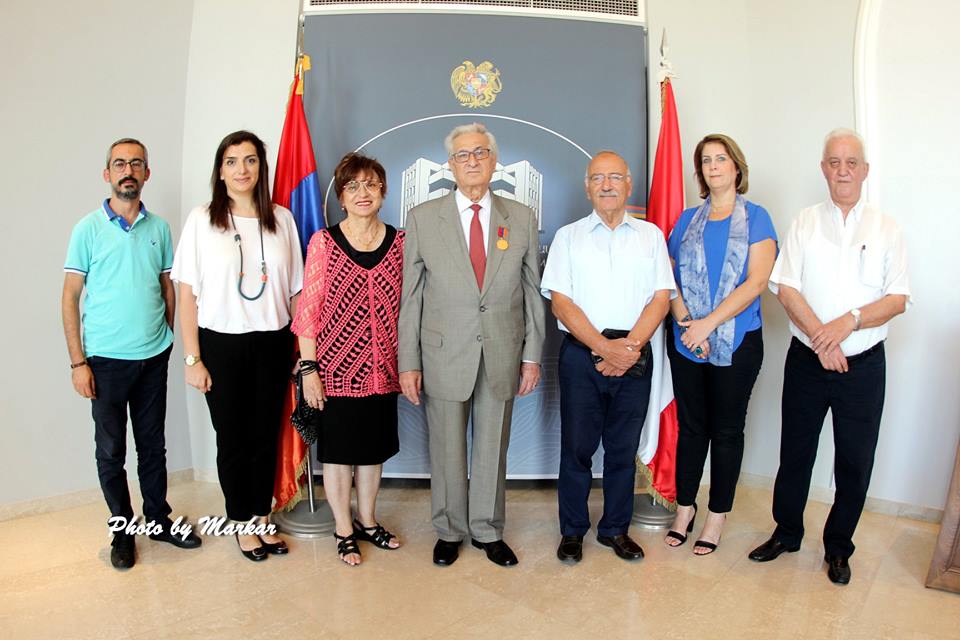 Dikran Jinbashian, a veteran educator, intellectual, and public servant, was honored with a gold medal by the Ministry of Diaspora of the Republic of Armenia. The medal was awarded at a ceremony at the Armenian Embassy in Beirut on September 21, 2018.
The Armenian ambassador, Samvel Mkrtchyan, said, "We are gathered here today to celebrate, acknowledge, and thank Dikran Jinbashian for his long-term and devoted work, done for the sake of his nation. We express our gratitude through an award, the gold medal of the Diaspora ministry of the Republic of Armenia.
"The path that Tigran Jinbashian has taken is truly exemplary and worthy of praise because service to the Armenian people, especially in an educational setting, is unequivocally worthy of praise and exemplary. His dedication inspires us all and stays with us.
"It is symbolic that the medal's presentation is taking place on the Armenian republic's 27th anniversary of independence. I think that this coincidence is highly symbolic, because the importance and greatness of Dikran Jinbashian's mission is not limited to preserving Armenian identity in the diaspora; it is also important in terms of our shared effort to build a stronger Republic of Armenia."
At the end of his speech, the ambassador congratulated Mr. Jinbashian and said "This is a small token for a truly great legacy of a lifetime of service.
My appreciation is small compared to the work you did and thanks you earned throughout your life. The example you have set will guide us in our activity and future initiatives."
Ambassador Mkrtchyan then presented the medal to Mr. Jinbashian.