Australia
Regional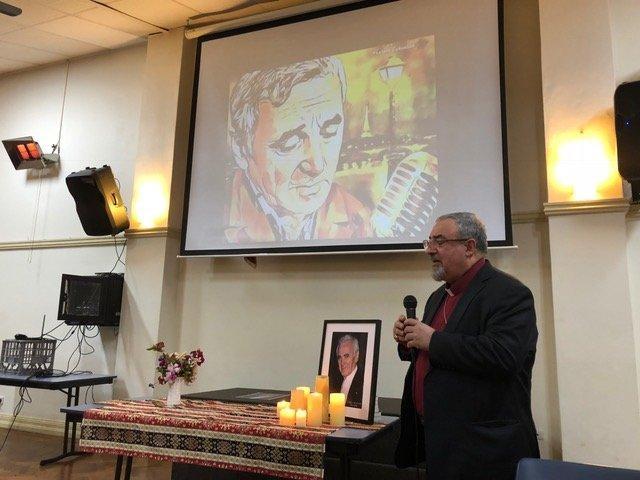 The Literature and Arts Committee of Hamazkayin in Sydney is known for the high quality of the literary events it organizes. After a short hiatus, the committee held its most recent event on October 12, 2018. The title of the event was "An Evening of Poetry Reading around One Glass of Wine."
The plan was to ask book lovers to bring their favorite poems to the event to read aloud. There were to be no limits and each participant would be welcome to read any poem and tell the audience why she or he had selected it.
The flyers had been printed and distributed; the program had been announced in the local print media. Then news arrived that Charles Aznavour had died. The committee called a meeting—as committees do—and decided to dedicate the first part of the evening to the memory of the beloved troubadour.
The event took place at the Willoughby Armenian Cultural Centre. Bishop Haygazoun Najarian, primate of Armenians in Australia and New Zealand, was present, as was Vicken Kalloghlian, chairperson of the regional executive board.
The program started with a moment of silence in Aznavour's memory. The chairperson of the literary committee recounted stories from Aznavour's life, suggesting that many people learned about Armenians, Armenia, and Armenian culture through Aznavour. Aznavour, of course, contributed to French culture and his songs became a staple for other French performers. French president Emmanuel Macron honored Aznavour with a state funeral, remarking that in France, "poets never die." Other participants in the evening's program presented Aznavour's biography, told more stories about him, and even read a poem dedicated to him.
After a hospitality break, ten participants read poems. Before reading a poem, the participant would explain his or her reasons for selecting it.
The audience followed the poems closely. One participant performed the song, "Haireni yergir," and was joined by the audience.
The bishop offered some words of encouragement in closing and expressed a hope to see more events like this one in future.
—Lilig Godoyan