Artsakh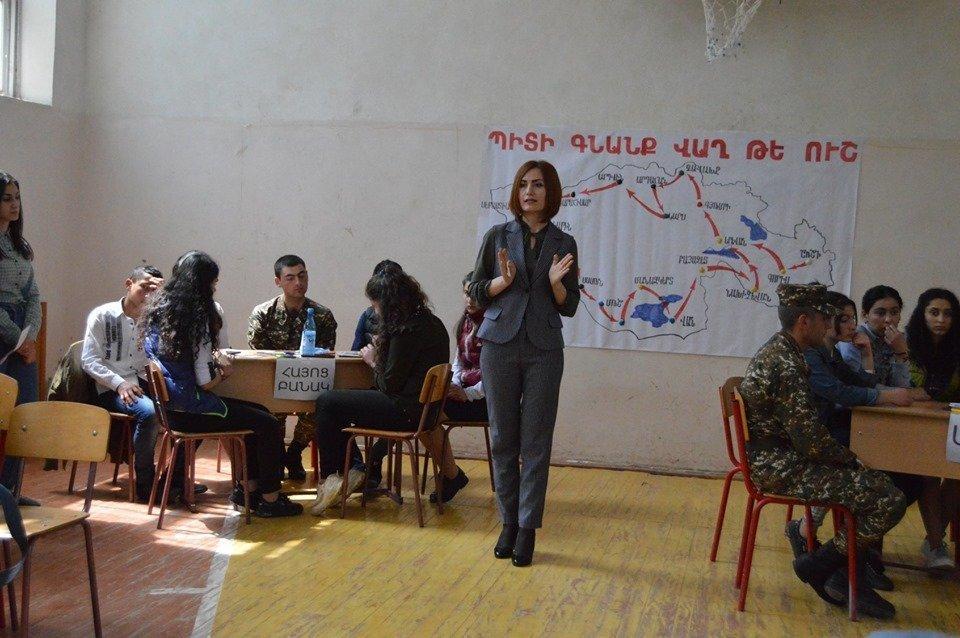 On May 6, 2019, the Hamazkayin office in Artsakh, with the cooperation of the ARF Artsakh Youth Association, held a high school knowledge competition in the Nakhichevanik district of Aghveran. The game was dedicated to the sesquicentennial of the great writers Levon Shant and Hovhannes Tumanian.
Students from nearby communities also participated.
Soldiers from the N Detachment of the Artsakh Defense Army also participated.
Hermine Avagyan, head of Hamazkayin's Artsakh office, opened the event. She spoke of the legacy of the two writers and noted that Hamzakayin chapters around the world were marking the anniversary with events. She spoke of Hamazkayin's activities and goals and noted that her office would always work with different community schools and cultural groups in Artsakh to reinforce cultural life in the republic.

The game featured a special map that showed the cities of the lost homeland. With each correct answer, a team liberated a city. The winning team would be the one to reach the summit of Mount Ararat first.
The teams were named "Njdeh," "Avo," "Hayots Banak" (Armenian army), and "Artsakh." Many of the questions had to do with Tumanian and Shant. Some were about the victories of May (the independence battles of Armenia in 1918, the surrender of Nazi Germany in 1945, and the liberation of Shushi in 1992) and other important moments in Armenian history.
Students sang and recited poetry during the game.
The "Artsakh" team won.
Ms. Avagyan and Beno Mirzoyan, representative of the ARF Artsakh Youth Association Central Executive Board handed the winning team and the other participating teams gifts and certificates.
The school also received an important book, Hovhannes Tumanian: Marde yev Banasteghtse (Hovhannes Tumanian: The man and the poet), recently released by the Hamazkayin Yerevan office.
The commanders of the detachment also handed certificates to the winning team and the most active participant.
The administration and faculty of the school held a warm reception for those present and thanked the organizers.