Regional
USA & Canada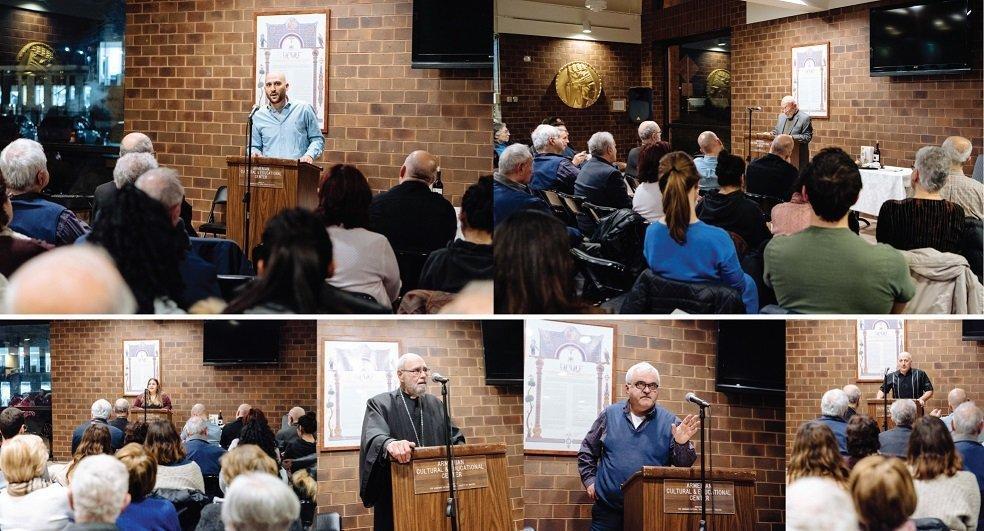 On March 21, 2019, at the ACEC in Watertown, an event took place celebrating the launch of the English translation of Andranik Tzarukian's epic, iconic "Tukht Ar Yerevan." There were 150 people present at the event.
Verginie Touloumian was the emcee, and after welcoming everyone, said that the translation of a colossal and history-making book like Letter to Yerevan is an opportunity for Armenians who do not read Armenian, and for non-Armenians as well, to learn about the conditions under which Andranik Tzarukian wrote his epic poem.
Rupen Janbazian spoke next. He was the book's co-translator, and spoke on the impact the book had on him. When he attended ARS schools, his teacher would recite Tzarukian's poem without error.
"I had, of course, read Tatul Sonent's literary translations in the past, and had met him a couple of times. However, four years ago I had the opportunity to join the Armenian Weekly's editorial staff. In the venerable Hayrenik building, I had the chance to become close friends with Tatul. His office became my classroom, where I learned so much about literature and the art of translation, especially. In one of our loooong chats, we started asking ourselves why a work like Letter to Yerevan, which at the time of its publication sold like fresh bread, and is considered one of the masterpieces of diaspora Armenian literature, has been practically forgotten, especially by the new generation." said Janbazian.