Middle East
Regional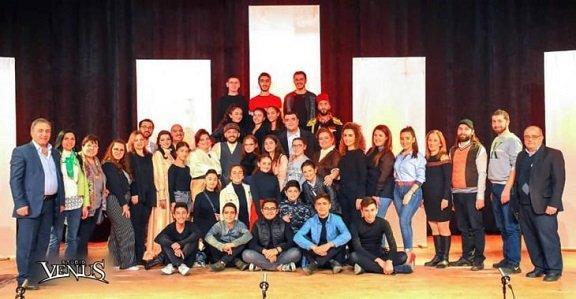 Levon Shant's 1903 play Yesi Marte (The egotist) was performed on November 17, 2019, at Aleppo's Kevork Yesayian Hall under the aegis of Archbishop Masis Zobuian, Prelate of the Armenian Diocese of Syria, Kantsasar reports. The play was sponsored by the Levon Shant Theatrical Unit of the Hamazkayin Regional Executive Board for Syria.
The performance was dedicated to the "prince of Armenian playwrights" and Hamazkayin cofounder Levon Shant on the sesquicentennial of his birth. It was brought about using only local resources, ranging from the actors to the director, Hushig Ghazarian, a member of the theatrical unit. The music was composed by the young Aleppo-Armenian musician Hovig Ohanian. A new score was not the only innovation in this special presentation. Alongside the main players, a large number of young people were on the stage, embodying the emotional states of the main players.
"The Egotist" is set in the era in which it was written. It involves the plans of a group of young revolutionaries to punish a traitor and one revolutionary's inner turmoil. Sako Khaloyan, Nazo Adurian, Shant Urishigian, Lena Ksajigian, Sarin Hayrabedian, Hovig Ghazarian, and Ms. Ghazarian were in the main roles.
The group was quite successful in its presentation. Every detail had been carefully addressed. The poster, prepared by Hovsep Chaloghlian, was also eye catching.
The youthful group put on a presentation that was consistent with Hamazkayin's mission; it was modern in style but faithful to tradition. Audience members attested to the success of the group with their enthusiastic applause.