Regional
USA & Canada
On January 22, 2022, the "Levon Shant" Armenian Studies Program organized by Hamazkayin in Montral started a new phase. Braving the exceptionally cold weather of that day and in spite of the limitations imposed because of the pandemic, more than 20 students attended the first lesson of the second semester.
The topic for the day was the difference between Armenian classical orthography and the Abeghian orthography in use in Armenia and beyond. The speaker was Vrej-Armen Artinian. In the days before the lecture, students had received Silva Kaputikyan's "Khosk in vordun" (Address to my son) poem in both orthographies. Their homework was to note the differences.
The speaker first reflected on various theories about the origins of Armenian language and located Armenian within the family of languages.
Artinian discussed the evolution of the Armenian alphabet, starting with prehistoric hieroglyphs and cuneiform, noting the relationship of the Armenian alphabet with the Ethiopian Ge'ez script, culminating with the invention of the alphabet in the fifth century of the common era. The oldest artifact showing the alphabet is on the door of the Degor monatery and shows these 36 letters.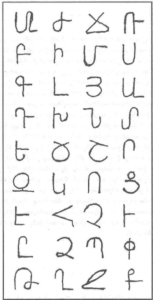 Artinian also noted that the alphabet doubled as a number system.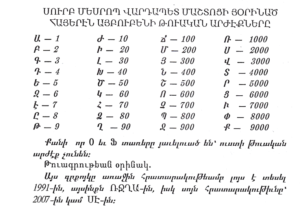 [Numerical Values of Armenian Letters]
[Because the letters Օ and Ֆ are later additions, they have no numerical value.
Example: The first publication of this booklet was in 1991, or ՌՋՂԱ; the current publication was in 2007 or ՍԷ:]
In the second part of the lecture, Artinian discussed the later evolution of the alphabet. There were unremarkable changes after the addition of the letters Օ (O) and Ֆ (F) until 1922, when the newly established Soviet government of Armenia "reformed" the orthography (spelling rules) of the language, largely for political reasons.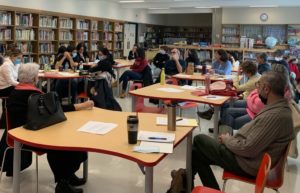 The changes were based on recommendations made in 1913 by scholar Manuk Abeghian and rejected by the scholarly community. Artinian noted that some of the changes imposed in 1922 were retracted in 1940. At that time, the letters է and Օ were reinstated. The classical rule that the letter Ո at the start of a word reads vo was reinstated, as the alternative, spelling out վո (v, o) was cumbersome. Likewise, the classical rule that the letter Ե at the start of a word reads ye was reinstated, as the alternative, spelling out Յե (y, e) was also cumbersome.
Artinian also noted that in Armenia on October 9, 1996, the state adopted the following as the official Armenian alphabet.