Middle East
Regional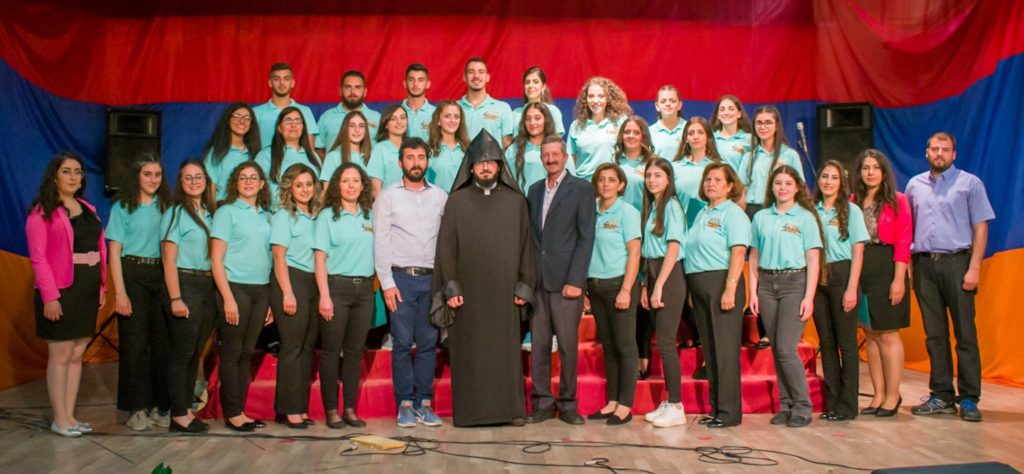 Under the aegis of Archbishop Masis Zobuyan, Prelate of the Armenian Diocese of Syria, the Hamazkayin Kessab "Hamo Ohanjanian" Chapter Executive Board on June 8, 2022, at the Sardarabad Hall, held a concert of patriotic songs performed by the Giligia Choir. The choir, under the direction of Father Antranig Kyuryumian, was accompanied on piano by Eva Bedrjikian.
Osan Kilaghbian offered opening remarks. They welcomed guests and briefly discussed the cultural programming of the Kessab Chapter, including the emergence of the Giligia Choir. They concluded with words of thanks addressed to everyone who had helped make the event possible.
The choir interpreted "Azk parabandz," "Menk bedk e grvink," "Himi el lrenk?" "Zeituntsiner," "Hayasdan," "Khani yerke," "Ov vor kach e," "Govgasi kacher," "Kovk Edisio," "Yerevan Erepuni," "Sardarabad," "Kedashen," "Baderazm enk knum," "Yelek hayer," "Artiok ovker en?" and "Hayer miatsek." The audience received the songs with great enthusiasm.
The chairperson of the chapter executive board, Steve Beokigian, was invited to the stage to present a gift to the conductor for the three months of concentrated hard work he had done to prepare for the concert.
The prelate spoke at the close of the evening. He praised the monk, Father Antranig, who served as conductor, as well as the Hamazkayin board and the members of the choir.
After the prelate's remarks, the choir sang the anthem of the Armenian See of Cilicia, "Giligia," and the prelate said a closing prayer.