Middle East
Regional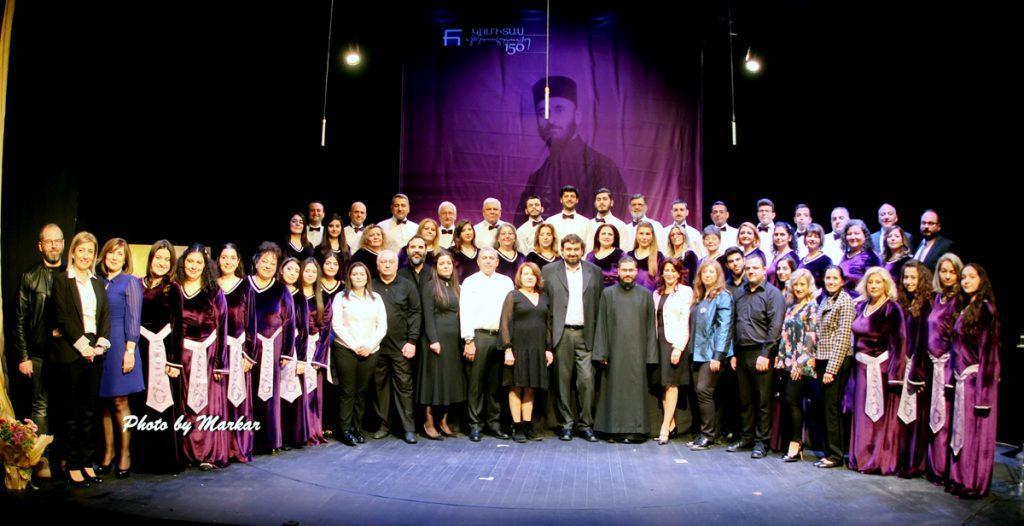 An evening dedicated to the 150th anniversary of the birth of Gomidas was held on March 8, 2020, at the Hagop Der Melkonian Hall in Beirut. The faculty of the the "Parsegh Ganatchian" School of Music and the "Shnorhali" Chorus of the Catholicate of the Great House of Cilicia performed.
The event was held under the auspices of the Krikor Bedros XX Gabroyan, the Catholicos-Patriarch of Cilicia of the Armenian Catholic Church. It was sponsored by the Hamazkayin Regional Executive Board for Lebanon. It was organized by the trustees of the Hamakayin Schools of Fine Arts.
Among those present were Very Rev. Fr. Anania Kujanian, Minister of Youth and Sports Vartiné Ohanian, clergy, representatives of organizations, and lovers of arts.
After the Lebanese and Armenian anthems were performed, Lisa Bastajian, a trustee of the Hamakayin Schools of Fine Arts, delivered opening remarks. Despite the difficult conditions in Lebanon, Hamazkayin felt the duty to remember, honor, and venerate the modest but creative songwriter, musicologist, founder of Armenian classical music, and savior of Armenian song on his 150th birthday. She added that the music and songs of Gomidas have always been received with awe everywhere from Ejmiadzin to Europe. Bastajian said the legacy of Gomidas lives; it is renewed in the mystical moments of piety that it brings about; it echoes from the stages of Armenian schools, where generations have sung and will continue to sing his folk songs; it persists through his student Parsegh Ganatchian, who followed Gomidas's lead and in 1936 formed the Kousan choir in Beirut, and through the conservatory, established in 1983, that bears his name.