Regional
USA & Canada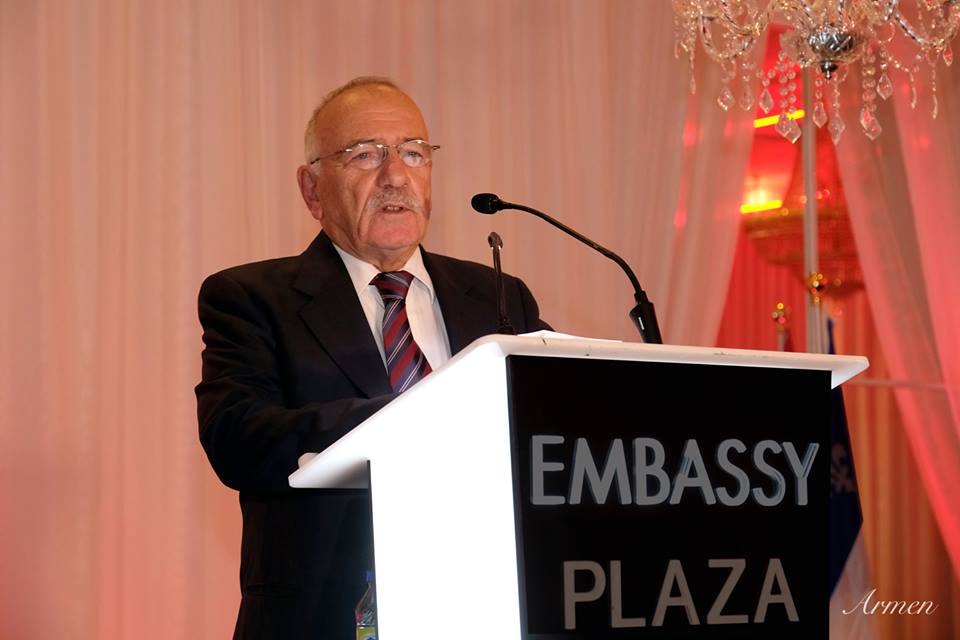 Hamazkayin Armenian Educational and Cultural Society's 90th anniversary celebrations took place on Sunday, October 14, 2018, at the Embassy Plaza in Laval, Quebec. The event was organized by the Executive Board of Hamazkayin Canada and was under the patronage of Archbishop Papken Charian, Prelate of Canada.
The event was attended by the Counsellor, Consular Affairs of the Republic of Armenia in Canada, Mr. Ara Mkrtchyan; the chairperson of the Executive Board of Hamazkayin, Dr. Megerdich Megerdichian; reverend fathers; representatives from various sister organizations; and a large number of Hamazkayin members and friends.
During the cocktail reception, the guests had the opportunity to mingle and enjoy a wide assortment of appetizers and drinks, while the Rhapsodie quartet played Armenian tunes in the background.
The opening remarks were made by the master of ceremonies Ms. Araz Yaghjian, who welcomed the guests and invited ungh. Dzovig Kahvejian, the chairperson of Hamazkayin Canada, to the stage to deliver Executive Committee's message. The guests observed a moment of silence in remembrance for the departed Hamazkayin members. In her remarks, ungh. Dzovig outlined the activities of the various Hamazkayin chapters in Canada and presented the current and future plans of Hamazkayin Canada.
The Rhapsodie quartet, headed by Nayiri Piloyan, took the stage and performed a number of compositions by Khatchadourian and Gomidas. They surprised the guests by a musical arrangement from the songs of the late Charles Aznavour, which was prepared especially for Hamazkayin's 90th anniversary celebrations.
Following the dinner service, the "Hamazkayin, with Pictures" film was presented. On behalf of Hamazkayin's Executive Board, Dr. Megerdichian awarded medals and certificates to two long-time members and supporters of Hamazkayin, ung. Vrej-Armen Artinian and ung. Simon Hasserjian, for their service and dedication.
Dr. Megerdichian delivered the message of the Executive Board of Hamazkayin. He mentioned the extensive activities of Hamazkayin internationally and stressed on the importance of continuing Hamazkayin's mission by utilizing relevant and current means.
Mr. Ara Mkrtchyan delivered the message of the Embassy of Armenia in Canada. He requested that the guests honour the memory of late Charles Aznavour by a moment of silence. The Prelate of Canada, Archbishop Charian, was invited to the stage to deliver his message in which he named the founders of Hamazkayin and mentioned their objective, mission, and vision for founding this organization. He encouraged the Hamazkayin members to continue their work and dedication to the Armenian culture.
At the end of the event, a lucky guest won the grand prize of the lottery, a two-way ticket to Armenia, donated by Haig Travel.
HAMAZKAYIN CANADA EXECUTIVE BOARD