Regional
USA & Canada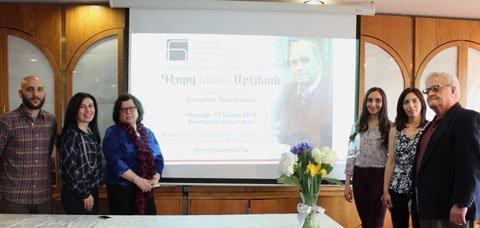 It is hard to believe that four years have passed since February 19, 2012, when Club Member Razmik Mnatsakanyan presented the works of  Vahan Terian at the first gathering of the Club. Very few were convinced then that those presentations would be continuous.  Many people thought that today's young people are not interested in literature, do not understand the language, and that the ideas touched upon in our literature are generally not comprehensible to the young generation.
Of course, this may all be true, but it does not mean that we should not try or make efforts to create a bridge between the Armenian young generation and the Armenian literature if we really understand the importance of that goal. After Terian, we presented H. Sahian, A. Aharonian, Siamanto A. Tsarukian, G. Emin, P. Durian, H. Tumanyan, H. Shiraz, V. Davtian, G. Zohrab, H. Baronian, Z. Yesayan, Z. Asatur, Jivani, V. Shushanian, D. Varuzhan, Reuben Zartarian...  and many others.  In those presentations, the number of which has reached to 35, our skillful youngsters also occasionally took part.  
We held discussions upon many subjects, including the past, present and future of the Armenian language. The presentations included the Western and Eastern Armenian writers, as well as Diaspora writers. The fifth year's first gathering organized by the Literary Committee of the Hamazkayin "Gladzor" Chapter was dedicated to writer Kevork-George Apelian (1941-2011). It took place on Sunday, March 13, 2016 in the afternoon. .
Apelian was originally from Kessab. Not surprisingly, the majority of the audience were descendants from Kessab and Musa Dagh. The writer's sister Anahit Apelian Toutikian was among the guests. She had arrived from Toronto to take part in the presentation.
ARS daily school graduate, Board member of the Hamazkayin Toronto Chapter, long-time member of Hamazkayin "Erebuni" Dance Ensemble, Rupina Sarkissian conducted the presentation.
Rupina has got her education at the University of Toronto, and  in the nearest future she will also follow speech therapy. Her parents also come from Kessab.