Central Committee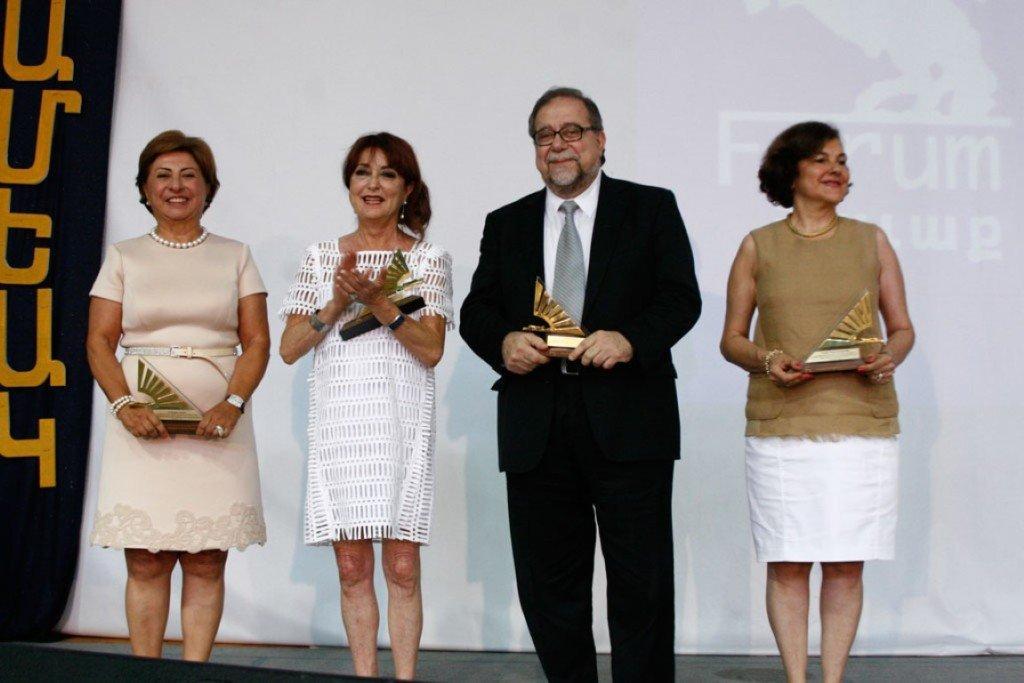 Hamazkayin's "M and H. Arslanian" Djemaran Alumni Association together with the management of the Student Forum organized an intimate banquet on Sunday, July 19, 2015, at 1: 00 pm, at "Dr. Adrine Karakashian" Hall. The sponsor of the event was the Central Executive Board of Hamazkayin. The guests of the banquet were the donors, who have sponsored the Forum for many years, friends, former participants, lecturers and administrators.
Arin Kalousdian delivered the opening speech in the name of Hamazkayin Central Executive Board and the management of the Forum.  After welcoming the guests, Arin Kalousdian mentioned that the aim of the banquet with the friends of the Forum is to pay a tribute to the authors of the idea, the Forum founders, who organized and coordinated its activities and made great efforts for many years. Arin Kalousdian also said that the Central Executive Board considers the continuity of the Forum highly important and, therefore, establishes "Forum Security" Fund, which starts to operate with the first donation made by Adom and Sella Tenjoukians - USD5000. The toastmaster of the day George Torosian made a speech and told about his experience and impressions related to the Forum. Then, he invited the pianist Nare Aghasargisian and violinist Khazhak Khachadourian to the stage. Their performance was followed by some Armenian and foreign music and songs performed by Hrag Karakashian and Alin Nakkashian.
During the intervals between the artistic performances, the former participants of the Forum recalled their own experiences and feelings related to it. The participants and the officials of Forum 2015 running in Armenia directly contacted the guests of the event and presented the daily plans of the Forum and their impressions. The Forum 2015 running in Armenia and Artsakh started on July 11 and will last until July 25.
The heartfelt speech of Forum 2014 participant from Istanbul Sarin Agpash was presented on a videotape to the guests.
At the end, the vice president of the Hamazkayin's Central Executive Board Megerdich Yapoudjian was invited to the stage. He spoke about the importance of the initiative, about the 21-years' work experience and especially the tireless and consistent work of the founding group. Megerdich Yapoudjian awarded memorial souvenirs to Shushik Arslanian, Hourig Baghdasarian, Hrach Simonian and Sella Tenjoukian.
The awarded participants conveyed their heartfelt appreciation and discussed the idea of the forum, the first years of hard work, their efforts to keep the young students in the Armenian atmosphere, to introduce the Armenian culture to them, and a set of other objectives for the implementation of which the Forum yet continues to function.
During the event, the guests donated to the "Forum Security" Fund.