Regional
USA & Canada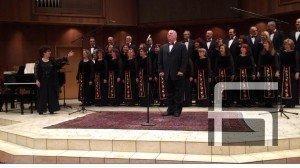 The Fresno "Daniel Varuzhan" Chapter of Hamazkayin organized the "Sayat Nova" Choir's concert on Saturday, January 24, 2015, at 7 pm, at the First Armenian Presbyterian Church Hall for more than 200 of audience.
Board Chair Srbuhi Msrian delivered the opening speech, thanked the audience and presented brief information about the "Sayat Nova" Choir and its activities.
The 44 male-female members of the choir, in national costumes, walked out on the stage to a thunderous ovation. The audience gave ovation to the choir director and pianist Nora Rumian (Bayramian) as well. Instead of walking out on the stage, she sat in front of the piano and played the American anthem. Jack Sivtchian accompanied him with his captivating voice. Then the group performed "Our Homeland".