Central Committee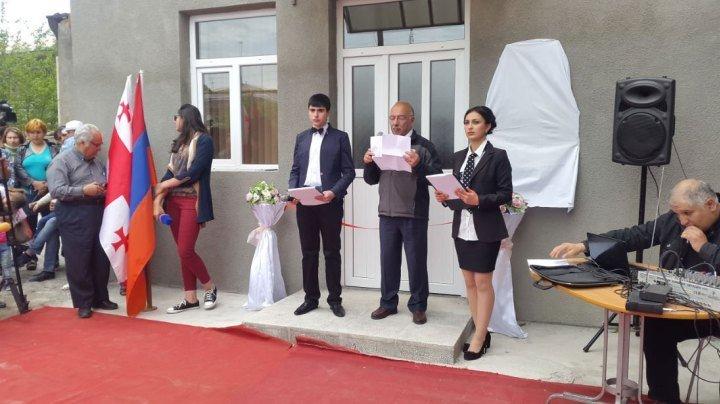 "Aztag" Daily - The opening of the Armenian Youth Centre's annex building after the first Prime Minister of the first Republic of Armenia, Hamo Ohanchanian, took place on Saturday, June 18, 2016. The opening ceremony began with Armenian dances by the young attendees of the center. Many guests, religious leaders, intellectuals and public figures from Tbilisi, various regions of  Javakhk and Armenia were present at the opening ceremony. The representatives of Akhalkalaki local authorities, along with officials from Armenia, were present at the opening ceremony.
Before cutting the opening ribbon, many guests made welcome speeches and expressed their gratitude. They spoke about the importance of the centre, which aims at giving Armenian education to the young Armenian people. Bagrat Sargsyan made a speech in the name of  Javakhk Support Group, and expressed deep gratitude to the Armenian community of Tehran, which has greatly supported the construction of this annex building. He said that the building is called after Armenia's first prime minister, Akhalkalaki-born Hamo Ohanchanian so as to bring up and educate patriotic young generation with national ideas.
President of the Regional Assembly of Akhalkalaki, Hamlet Movsisyan and MP of Georgia, Samvel Petrosyan also made welcoming speeches.
After presentations and speeches, the opening ribbon was cut by Chair of the Central Executive Board of Hamazkayin Armenian Educational and Cultural Society, Megerdich Megerdichian and Chair of ARS Javakhk Support Projects, Bagrat Sargsyan. The opening ceremony was followed by house blessing ceremony.
The students of the youth centers in Akhaltsikhe and Ninotsminda performed songs and dances at the opening ceremony of the building.