Armenia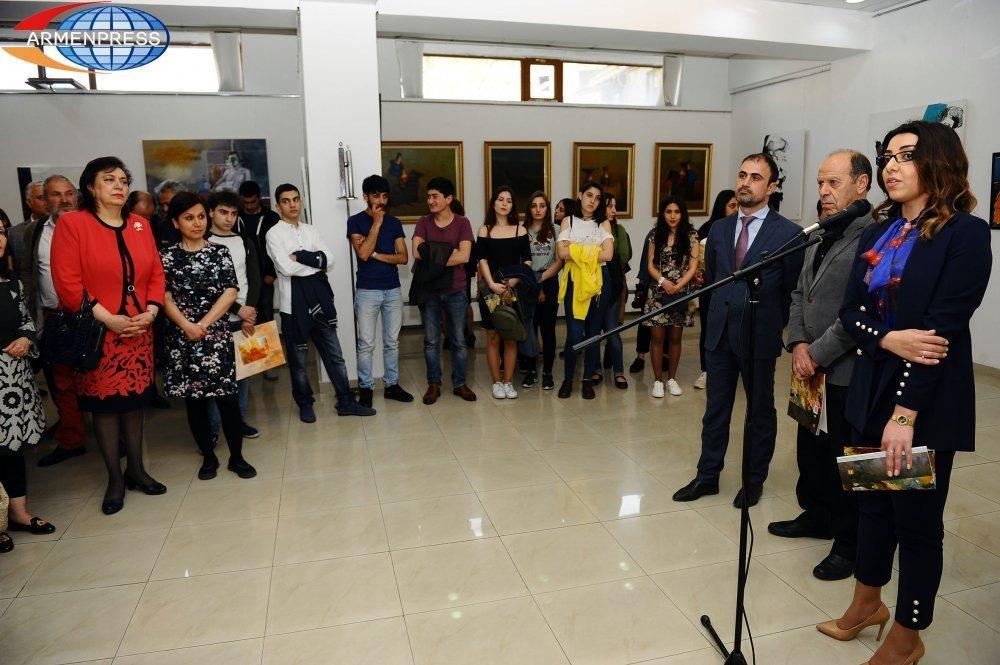 The Exhibition "It's me" opened on April 28, at the exhibition hall of Artists' Union of Armenia. The goal of the exhibition initiated by the Hamazkayin Armenian Educational and Cultural Society is to reveal new names and continue the best traditions of Armenian fine arts, to support the talented young artists in search of artistic and aesthetic solutions and to launch a homonymous album.
Seventeen young artists gathered around Hamazkayin are from different corners of Armenia and have their own creative inner world and vision of finding their place in the broad world of fine art, and communicating openly with the world in one common language of art.
RA Minister of Diaspora, Hranush Hakobyan, Minister of Culture, Nersess Der-Vartanian, and President of Artists' Union of Armenia, Karen Aghamian, renowned intellectuals, young artists, and art lovers attended the opening ceremony.
Hamazkayin Armenia Office Director, Nare Mikaelian delivered the opening speech. She welcomed the participants and said that promoting the young artists, supporting them in making their first steps in the sphere of art and revealing their talents had always been a part of Hamazkayin Armenian Educational and Cultural Society's mission and, for that very purpose and mission, the Hamazkayin initiated the organization of the exhibition and published a homonymous album.
Nare Mikaelian added that the exhibited works of 17 artists were quite different in style and creative thinking. However, the freethinking and the desire to bring innovation into art combines all of them.
RA Deputy Minister of Culture Nersess Der-Vartanian believes that such initiatives are welcome. "We need environments, which will give birth to new ideas and new forms of cooperation. I am very pleased that there is an environment where we reveal new faces, names and works. Everything is very colorful."
Famous intellectuals Robert Elibekian, Haghtanak Shahumian, Nigol Aghababian, Zaven Khachikian, German Avagyan, and Ruben Babayan, writer, politician and ARF representative Aghvan Vardanyan, writer Gurgen Khanjyan, Artashes Shahbazyan and others welcomed the initiative of the Hamazkayin Armenian Cultural and Educational Society and the artists.
The presentation of the "It's me" Album summarizing the exhibited works of 17 artists followed the opening ceremony.
"It's me" exhibition will be open until May 4, 2017.
May 3, 2017
Hamazkayin Armenia Office