Middle East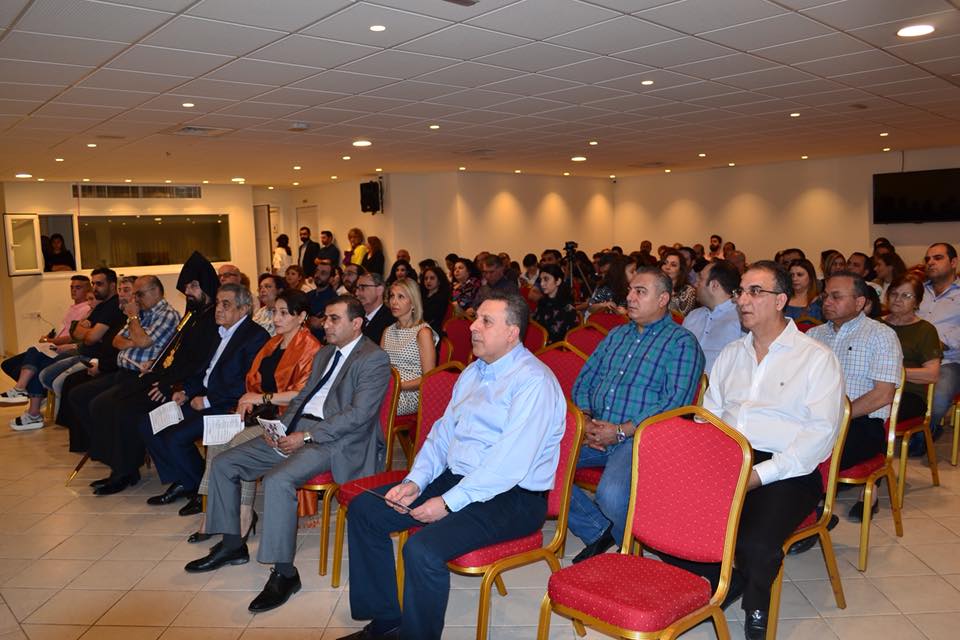 The ceremony dedicated to the April Genocide and organized by the Separate Chapter of Hamazkayin Kuwait took place on April 23, 2018, at the Church of Vardanants Saints. It was sponsored by the Prelate of Kuwait, His Grace Bishop Massis Zoboyan. Ambassador Extraordinary and Plenipotentiary of the Republic of Armenia to the Republic of Kuwait, Manuel Badeyan and his wife were present at the ceremony.
After the Hymn of the Republic of Armenia, the opening speech was delivered by the Chairperson of the Chapter, Mesrop Taslakian, who stressed in his speech the importance of preserving and transfering the memories of the Genocide from generation to generation so that to keep alive the memory of the people and the demand for reimbursement.
Then a very fine program started, which included songs, musical pieces and recitations. Lucy Kahkejian presented the song Crane by Gomidas, and Garo, Patil and Hovhannes Boghossians performed Khachatur Avetisian's musical piece Hayots Hovig, after which Kevork Temamian performed the song Our Mother Armenia. Maria Sarkisian recited Vahagn Davtian's poem To My Neighbors, after which Patil Boghossian performed Apricot Tree on the violin, and Lila Karapetian performed the song Life and Struggle. George Arapatlyan accompanied the concert on the piano.
The speaker of the day Dr.Nerses Sarkisian thoroughly spoke about the long process of the Armenian Genocide's international recognition and the demand for reimbursement from the legal, political and power balance point of view. The speaker emphasized the hard work that should be carried out by the Armenian government and the Diaspora through joint efforts, concentrating the legal and political capacities for the full recognition of the Genocide, and reimbursement, at the same time creating a country based on a strong economic, military and social equality as a guarantee for the solution of Armenian Cause.
Prelate of Kuwait, His Grace Bishop Massis Zoboyan delivered the closing speech of the event emphasizing the need to remain faithful to the three main sacraments in the life of the Armenian people, Homeland, canonized martyrs and saints, and the Christian faith.
At the end of the ceremony, the participants, following the Holy Father, placed red gillyflowers in front of the cross-stone at the entrance to the Church and bowed heads down for the victims of the Armenian Genocide.