Regional
USA & Canada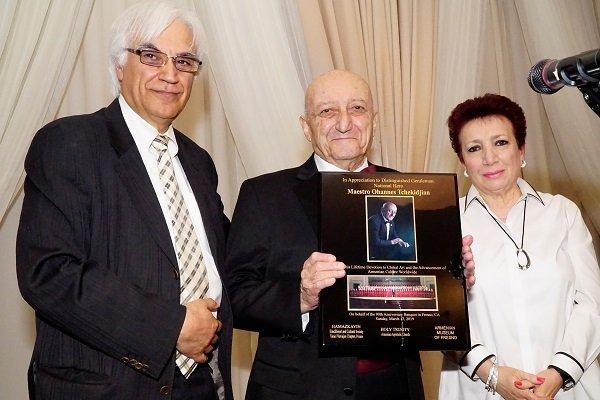 The renowned choir conductor Hovhannes Chekijian at long last arrived in this faraway corner on March 17, 2019, thanks to the tireless efforts of his former student Shoghig Baboyan.
The event was organized by the management of Fresno's Armenian museum and the Holy Trinity Church. It took place with the support of the Hamazkayin Taniel Varuzhan Chapter. The chapter presented the musician with an illustrated volume dedicated to the first Armenian republic.
Mr. Chekijian entered the hall in the company of Very Rev. Dajad Ashekian. The audience sang "Happy Birthday" to welcome him. The ninety-year-old artist was moved by the reception he received.
The emcee, Varuzhan Der Simonian, welcomed everyone.
Lunch was served. In the meantime, video clips of Mr. Chekijian's accomplishments were shown.
Misak Israelian, a singer from Armenia, sang beautiful songs. Yeretsgin Sevan Balabanian, a veteran pianist, accompanied him. He sang "Karmir Vardin," "Yeraz," and a song from Tosca.
Markarid Tumanian, representing the Zankagadun (Bell tower) literary group, spoke. She called him, "Conductor of All Armenians," in a play on a title of the chief bishop of the Armenian church. The emcee presented samples of performances led by Mr. Chekijian.