Institutions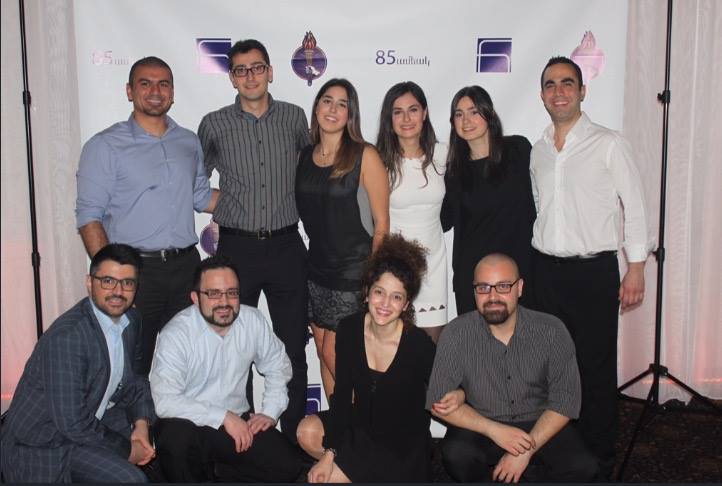 The celebration of the 85th anniversary of the foundation of Armenian Djemaran took place in the presence of 100 graduates of Djemaran, on May 15, 2016, at the Embassy Plaza Hall of Laval City.
This jubilee ceremony was to be organized in 2015, but it was postponed so that not to come between and prevent the commemoration events dedicated to the Centennial of the Armenian Genocide. Taking into account the organized various events in the community, our Board, in cooperation with the Board of "Sanahin" Chapter of Hamazkayin Montreal, declared 15 May of 2016 as the most suitable date for our celebration.
The celebration began with Djemaran's anthem, after which Djemaran Alumni Board Member Serzh Yesayan delivered the opening speech. He spoke about the foundation of Djemaran, its activities and mission as a sanctuary of the Armenian language and culture. He also emphasised the importance of education saying, "Education, not only has financial benefits, but also is a great boon for any person, as it lits light in the person's mental world, defeats ignorance and develops the person's  mind, feelings, imagination and soul. Therefore, Djemaran is considered as the torch bearer of Armenian schooling."
Chairperson of Hamazkayin Montreal "Sanahin" Chapter, Tamar Poladian made a speech saying that "Sanahin" Chapter always supports Djemaran. Then, the representative of Hamazkayin Canada Region, Viken Tufenkjian conveyed the Hamazkayin Central Committee's message addressed to the graduates. He began his speech with Nicole Aghpalian's words "We are surrounded by terrible and destructive forces. Therefore, it is necessary to create new and fanatical Armenians able to face the forces that invade from all sides to elliminate Armenians."
Tufenkjian referred to the history of Djemaran's foundation and added, "During all 85 years, Djemaran gave birth to a new quality of Armenians called Djemaranagans, which have unique features. In fact, when we say Djemaranagan we mean a special image of Armenian. So is in your case, dear graduates. Whenever you meet different generations of Djemaranagans, even unknown ones, you can immediately recognize the Armenian having the same education, ideals and dreams."
After Viken Tufenkjian's speech, dinner was served. It was followed by Djemaran's Principal Dikran Jinbashian's video-speech addressed to the Djemaran graduates in Montreal, after which the graduates of 1943 –1966 received certificates.
The candlelight cake of Djemaran's 85th anniversary celebration was cut by Der Melkonian Minassian Shake, graduated in 1943, Cloe Achemian, graduated in 2012, and the representative of Hamazkayin Canada Region, Viken Tufenkjian.
At the end, donation was held. The names of the donors will be declared later, when promises are completed.
Singer Sago Tachjian and his band, accompanied by DJ Garo, entertained the guests during the whole evening.
Djemaran Alumni Executive Board of Montreal                                                                                                                    
May 16, 2016