Regional
USA & Canada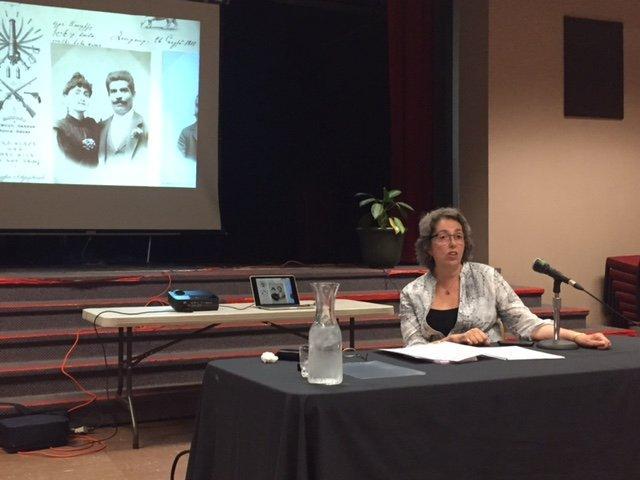 The Hamazkayin Sanahin Chapter's Executive Board organized an interview meeting with Rubina Svajian, the author of the book In the Shadow of the Sultan. Rubina Svajian was invited from London to give an interview at the meeting entitled We Remember the Ethiopian Armenians. The event took place on Wednesday 21 June 2017, at the Avedis Aharonian Hall of the Armenian Center. 60 book-lovers that were mostly Ethiopian Armenians attended the event.
The Board's Literary Committee member Anahit Balian welcomed the guests saying that in different periods of our history, the invaders, seeing the Armenian people's creative spirit, bright mind and diligence, deported them from their native lands so that they would contribute to the prosperity of other foreign countries. ″We have read also about the people who survived the Armenian Genocide instigated by the Ottoman Empire in 1915. Those people were exiled from their homeland. They settled in foreign countries, and greatly contributed to the progress of all those hosting countries. However, it is interesting to know when and how the Armenians reached Ethiopia and what kind of contribution they made there.″
As soon as Noyemi Lakhoyan, a former graduate of the National St. Hagop School, read Rubina Svajian's biography, and then invited her to the stage, the author answered to all those questions.
In her speech, she told how Armenians since ancient times had been trading with Ethiopia, how they settled there and built schools, churches, and clubs.
Armenians contributed to the development of Ethiopia in various fields. It was very interesting to know how Hailee Sallasi (who later became the Emperor of Ethiopia), during his visit to Jerusalem in 1916, listened to the band consisting of 40 Genocide survivor orphans, asked Yeghishe Archbishop Durian to take them to Ethiopia. The conductor of the same band, Kevork Nalbandian, later wrote the national anthem of Ethiopia.
As for the other spheres, Mrs. Svajian said that the Armenian merchants had always brought their significant contribution to the economic life of the country, while the Armenian artisans and artists, such as jewelers, ironmongers, and painters cooperated with Ethiopian kings and made their marks on Ethiopian elite. There were also Armenian pharmacists, architects, musicians, senior military men etc. As appreciation for their accomplishments and loyalty, the Ethiopian authorities rewarded many of those Armenians.
At the end of the event, Mrs. Svajian answered the questions and signed the sold books.
Executive Board of Sanahin Chapter