Regional
USA & Canada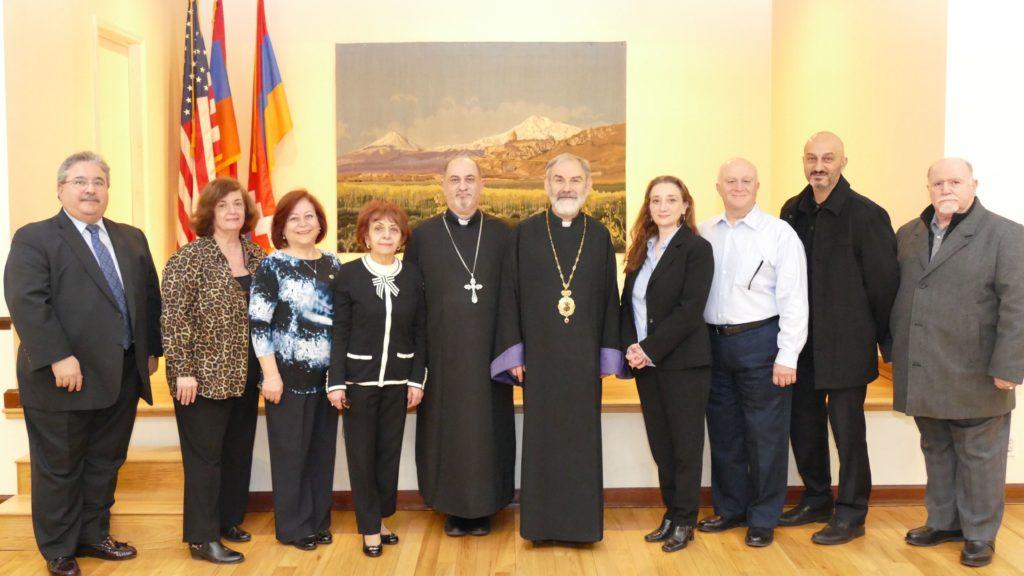 His Eminence Archbishop Anoushavan Tanielian, Prelate, took part in the Divine Liturgy at St. Illuminator's Cathedral, where he delivered the sermon. Following the Soorp Badarak, he presided over a special Fundraising Event and a Call for Solidarity at Pashalian Hall organized by Hamazkayin Armenian Educational and Cultural Society for its Children of Artsakh project, Armenian students at the Hamazkayin M. and H. Arslanian Djemaran in Lebanon, and the education of Armenian language teachers in Diasporan schools. A total of $25,000 was raised thanks to the generous donations of the public.
Rev. Fr. Mesrob Lakissian, Pastor, offered words of welcome and said with satisfaction that it was the first event the Church was hosting an event after the Covid pandemic, which marked a return to normal life. He then invited Lalig Vartanian, of Hamazkayin's New York chapter; Maria Ebrimian, of the Armenian Relief Society's New York "Mayr" chapter; Tro Turbendian, of the local ARF Armen Garo Committee; Arevig Caprielian, chairwoman of Hamazkayin Eastern Region, and Ani Tchaghlasian, of ARF Eastern Region's Central Committee, to address the public. In her talk, Mrs. Tchaghlasian also gave a slide show with an overview of life in Artsakh.
In turn, Archbishop Anoushavan praised highly this patriotic initiative organized by Hamazkayin, saying that its name sums up its mission. "For some, the existence and dreams of the Armenian people are confined to Yerevan and its surroundings, at most a reduced Armenia, whereas for others they extend from California to Artsakh and from Artsakh to Australia," Archbishop Anoushavan said, as Hamazkayin in Armenian is a word that means "of the entire nation."
It is with this broader vision that encompasses the global Armenian nation that will lead to the greatness of the Diaspora and to support the Homeland, he said. The Prelate also quoted from a story told by Mrs. Tchaghlasian in her talk, about a 10-year-old boy in Artsakh who was dancing in the schoolyard if he was not afraid as the mountain across from there was occupied and they were under permanent surveillance. Mrs. Tchaghlasian had asked him if he was not afraid, and the boy answered in the Artsakh dialect: "I know they are watching but let them know that we are not broken."
And with this quote His Eminence wrapped up his message, saying, "The words by this genuine son of the land of Artsakh not only must inspire us but the entire Armenian nation and have faith in the firm progress of our people in the Diaspora and the Homeland and the defense and conservation of our just rights."