Regional
USA & Canada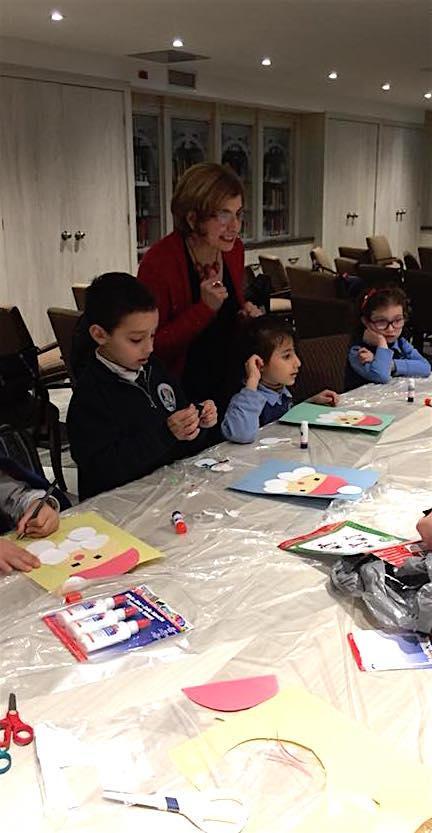 The habit of narration has come from ancient times. Long before the writing and literature, the generations, through oral stories, passed their knowledge to next generations, thus educating them. The narrators were teachers, advisers, entertainers, mentors, moral teachers, healers, and hope givers.  In our reality, a striking example of such narration is the epic poem Sassountsi David, which has been transmitted orally in the form of folk poems for ages until 1873, when Garegin Srvandztiants finally put it in written form, summing them up in four separate acts: Sanasar Baghdasar, the Great Mher (also known as Lion Mher), David of Sassoun and Little Mher.
In 2017, the Literary Committee of Hamazkayin Gladzor Chapter started the program Story Time for Children.  On December 18, the fourth gathering took place at the renovated and redecorated hall of the Hamazkayin Harutyun Manoogian Library. The narrator was Dr. Ani Hasserjian, and the topic was New Year celebration. The program also included manual work coordinated by the Literary  Committee members, Arda Der Hagopian and Armine Torikian. Dr. Ani Hasserjian, in her special, exquisite style, told the story of Christmas and New Year.  The little ones listened to the story with great interest and did their manual work with great enthusiasm.
It is doubtless that the Story Time is useful for both narrators and listeners. The program generally develops imagination, teaches moral, arouses interest in reading, teaches the kids to listen and to be patient.  However, Hamazkayin's Story Time program pursues two main goals: first, it gives the little ones an opportunity to listen to the Armenian speech, and to express their thoughts in Armenian. Second, it brings together children from different schools (Armenian and foreign) and creates  a pleasant social atmosphere for them providing an opportunity to know each other, to create social connections and make friends in an intimate atmosphere.
The Story Time for children, contiguous to the book lovers' forums, has made a good start and is aimed at becoming a program on a monthly basis. This program is a modest contribution to the Hamazkayin educational and cultural program.  We rely on the parents' encouragement.
Tamar Donabedian