Forum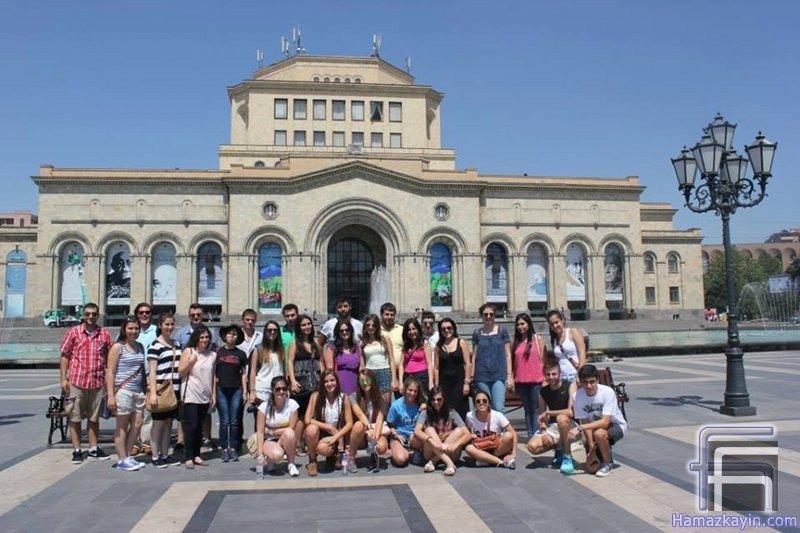 Hamazkayin Cultural and Educational Society's 20th Student Forum held its official opening on Saturday, July 19, 2014, at 12:00pm, and in attendance was Hamazkayin Central Executive member Sbardag Gharabaghtsian, Hamazkayin Forum's primary lecturer and educational advisor for years Hrant Markarian, as well as members and friends of Hamazkayin.
The opening ceremony welcoming remarks were given by Armenia's Hamazkayin Fund president Lilit Galstyan, who gave a presentation on the founding of Hamazkayin, its international expansion and the extensive work it has carried out, and finally the Hamazkayin Forum. She described how 20 years ago the Central Executive conceived of the idea of a student-youth forum, as well as how it saw the importance of organizing such a forum in the Armenian homeland.
A warm welcome was also given to the participants by the Hamazkayin Forum's primary lecturer and educational advisor Hrant Markarian, who emphasized the Forum's essence and its Armenian spirit. Markarian added that the participants will return home more attached to their identity and direct their friends to their homeland.
Then, Hamazkayin Central Executive member Sbardag Gharabaghtsian shed light on the importance of Forum's program and the necessity of organizing it in the homeland.
Hamazkayin Forum 2014 group leader Ara Parseghian briefly spoke about the key to a successful Forum – discipline and respect for the rules. He asked all to be punctual, so that the program could be realized in its entirety. He also relayed essential information for the participants' stay in Armenia, as well as information about the schedule of the Forum and the work and activities of the various culturally themed committees that all will take part in.
The participants – from 11 different regions – from Armenia, Artsakh, Javakhk, USA, Canada, Australia, Lebanon, Syria, France, Cyprus, and Brazil introduced themselves and after meeting one another descended to the restaurant downstairs for lunch, after which they hopped on the tour bus and enthusiastically visited the National Museum, Sasuntsi Tavit Statue, St. Gregory the Illuminator Cathedral, and the Mother Armenia (Mayr Hayastan) Statue. Interesting and fun facts were passed on to the participants about each of the sights and sites that the group toured.
Combating tiredness and sleeplessness, the Forum participants got dressed and ready and departed to "Yerevanian Kisherner" Restaurant, where the already friendly and sociable atmosphere continued.