Europe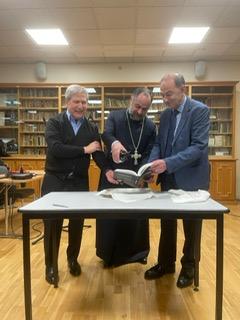 After a two-year pause in events, on March 4, 2022, the Hamakzayin Paris Chapter, the ARF Armen Garo Subcommittee, and the House of Armenian Culture jointly held a wine-and-cheese reception to launch a biographical dictionary of prominent Armenians. The work, prepared by Ara Krikorian and Hraïr Heratchian, is titled Le Dictionnaire Biographique, Arméniens d'hier et d'aujourd'hui.
About one hundred people attended the event, presided over by renowned actor and director Simon Abkarian.
Arin Tashjian opened the evening. Mr. Krikorian and Mr. Heratchian followed, presenting various figures from their book through slides. Kristine Aydinian and Arno Khatcherian performed solos, while Frédéric Manoukian performed on the piano and Rostom Khachikian played the duduk.
The evening ended with the newly elected primate of the Armenian diocese of France, Very Rev. Fr. Krikor Khatchatryan, pouring wine on a copy of the book—in keeping with a tradition. The authors signed copies of the book.