Regional
USA & Canada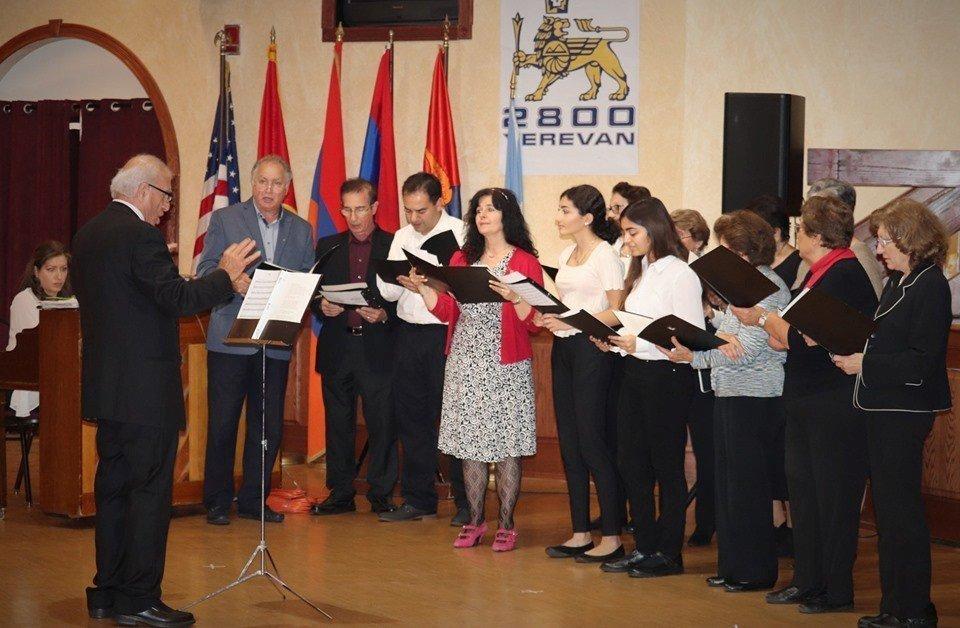 On Sunday October 20th 2019 at 1:30 p.m., the Chicago Hamazkayin Educational and Cultural Organization held an cultural and educational event in the Shahnasarian Hall, Armenian Community Center, in Glenview, Illinois. The afternoon event was dedicated in whole to the music of Gomidas, and also to the writings of Hovannes Toumanian and Gevorg Emin. "Fables, Music, and Poetry" had 125 in attendance. Dramatic reading and short histories of each person were presented. At the conclusion, the event was topped off by several minutes of colorful, energetic dancing from the Hamazkayin Sardarabad Dance Ensemble.
Ethnomusicologist Gomidas Vartabed and noted writer Hovannes Toumanian were born 150 years ago, and poet, essayist and writer Gevorg Emin was born 100 years ago. 
Taniel Varoujan Armenian School and volunteers from the community at large participated in the celebration of these three important figures.  Also invited to participate in the event was musical director Haroutune Kendimian, his daughter, pianist Loucine Tokmakjian, and pianist Lusine Torian. Together, they ran the musical end of the program, coaching and training the vocalists.  The host, Hamazkayin's member Jacqueline Papazian, spoke about the life of Gevorg Emin.  She then introduced other participants.  Akh, ays Masise by Gevorg Emin was read by Areni Artinian. Rozig Sazian spoke about the life of Gomidas Vartabed. Lusine Torian spoke about the life of Hovannes Toumanyan. Tson Gomidasin was read by Sona Papazian. Arev Muradian read Tmpgaperti Aroume by Toumanyan.  The Taniel Varoujan School Choir sang Khngi Dzar (by Gomidas) and Ambi Dagits – Hampartsum Yayla  (by H. Toumanyan and A. Dikranyan).  Nakhergank was ready by Arev Muradian (B. Sevag).  Anoush's Aria was sung beautifully by Areney Tokmakjian, (H. Toumanyan-A.Dikranyan). Yed ou Arach by Gomidas was played on piano by Loucine Kendimian-Tokmakjian, who tirelessly practiced and played the music for several other songs, during the event, including the haunting Gomidas' Karoun a tsune a arel  sung by Vana Dakarian.  Haprpan (Gomidas) and Hairenikis Hed by (H. Toumanyan – A. Harutunyan) was sung by the church choir, with a solo by Haroutune Kendimian. Hin Orhnouteun- (from H. Toumanyan) was read by Harry Torian and David Torian.  
The musical performances and lively readings brought the intellectual and artistic works of three cultural giants to a spirited new generation. The Holy Father Ghevont Pentezian thanked Hamazkayin and the participants, prayed with the audience and gave closing remarks. Pictures from the event are online at the Hamazkayin Chicago Facebook page.
Photography by Maral Aprahamian.