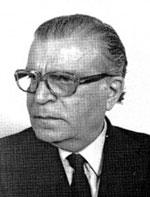 Arshavir Kazanjian (1922-2013)
Arshavir Kazanjian was born in Gonia on March 1, 1922. He immigrated with his family to Athens and resettled in the refugee station of Fix. He received his primary education in the National College of Fix. At a very early age, Arshavir evidently showed deep interest towards the Armenian theater. First, he worked there as an actor, then as a director, stage instructor, make-up artist, costume designer and did different type of work related to the performances. He continued his studies in Athens "Ghevontian" French Lyceum.
Apart from the theater, Arshavir was very much fond of music. He studied music and took accordion lessons. He founded the "Tavigh" and later the "Komitas" orchestras. He directed and staged very successful folk operettas.
Since 1947, he ceaselessly managed the troupe of Hamazkayin as a director, stage-instructor and make-up artist for 70 years and actively participated in the cultural life of the Armenian community in Greece.
In 2003, for his contribution and dedication to the theater, the Hamazkayin theater of Greece was named after Arshavir Kazanjian.
Arshavir Kazanjian passed away in November 2013.