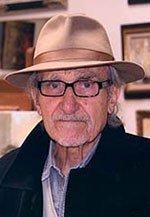 Jansem (Hovhannes Semerdjian) (1920-2013)
Jansem Hovhannes Semerdjian was born in 1920, in Seuleuze (Selez) City in Western Armenia.  He spent his childhood in the city of Thessaloniki (Salonika) in Greece. Later they moved and settled in France. Having graduated from "Ecole des Arts Decoratifs" in France, Jansem started to exhibit his paintings in Free Artists' galleries since 1944, and, in 1950s, he had already won several awards in France, some countries of Europe and Mexico.
Jansem is an exceptional artist, in honor of which two museums were opened in Japan during his lifetime.  Many prestigious museums and private collections in the world preserve his paintings.
He had dozens of solo exhibitions in Paris, New York, Chicago, London, Tokyo, Rome, Brussels, Lausanne, Beirut and elsewhere. His works are presented also in Moscow in the frame of French Art Exhibition.
Early paintings by Jansem were mainly to national issues such as "Armenian Girl", "Armenian Wedding", "Funeral", etc. Part of these works is exhibited in the Museum of Armenian Art in Paris. Jansem visited Armenia for the first time in 1973.
In 2001, RA President Robert Kocharyan invited Jansem, and he visited Armenia again. He donated the series of his 34 paintings called "Genocide" and painted in 2000-2001 to the Museum of Armenian Genocide.