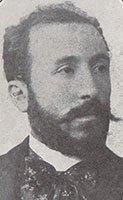 Melkon Gurjian (Hrant) (1859-1915)
Gurjian was born in the village of Havav. He received his primary education in his birthplace. In 1870, when he was eleven years old, he moved to Constantinople and attended Skyutar Seminary and later the Holy Cross College. In 1878, he started his teaching career and taught in many schools. At the same time, he worked for the leading newspapers in Constantinople under the pen name "Hrant". His writings reflected the provincial life and the hardships there.
In 1896, he went to Varna (Bulgaria), where he founded a school for the children of Armenian refugees. Two years later, he returned to Constantinople, where he was immediately arrested. He stayed in prison for six months and was exiled to Gastemuni (the Black Sea region). After staying in exile about ten years and right after the Constitution of 1908, he returned to Constantinople where he again started his teaching career. In 1910, he went to Echmiadzin as a Patriarchal delegate. On April 21, 1915, he was arrested and was martyred together with the well-known Armenian intellectuals of Constantinople.
His core works are "Letters from Wayfarer' life", "Stories", "Countryman's Letters", "Mesrop and Sahak," and translations.