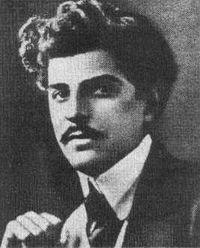 Roupen Sevag (Chilinkirian) (1885-1915)
Poet, novelist, Dr. Roupen Sevag (Chilinkirian) was born in 1885, in the village of Silivri, nearby Constantinople. After finishing the native Askanazian College, he attended Partizak's American School for two years. In 1901, he entered Berberian College of Constantinople. After graduating it in 1905, he was sent to Lausanne to study at Medical University.
In 1911, Roupen Sevag got Honorary Merits Certificate of a doctor and worked in hospitals in Lausanne. In his practitioner's period (1911-1914), he married the German woman Yanny Apel and had two sons – Levon and Shamiram.
Sevag left the comfortable conditions in Lausanne and returned to Constantinople. There he devoted himself to literary and social activities.
Having scarcely settled in Constantinople, Roupen Sevag faced the call-up of the Armenian civilians initiated by the Ittihat government and was recruited to serve in the Ottoman army as a doctor in military hospitals. Although he escaped the arrest and exile of 24 April 1915, when the Armenian intellectuals were arrested in Constantinople, he was arrested in June of the same year and was exiled to Changher, where he was killed on 26 August together with the writer Daniel Varuzhan.
His "Red Book" published in 1910, which contains three poems "Madman of Massacres", "Turkish Woman" and "A Song about Human". His three collections "Book of Love," "Chaos" and "Last Armenians" remained incomplete because of his tragic death.
Since 1911, along with his poems, he also wrote novels and published his real-life stories under a general heading "Pages from Doctor's Book" in the ARF official "Freedom Fight" Newspaper in Constantinople.