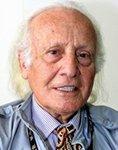 Sebouh Apkarian (1930-2014)
Artistic Director and Conductor of Kohar Symphonic Orchestra and Choir Sebouh Apkarian (Maestro) was born in Nicosia, Cyprus. He was a composer, conductor, painter and educator. After graduating Melkonian Educational Institute,where he also taught music and conducted the school choir, he continued his education in Paris.
For 50 years,he was engaged incomposing, painting and teaching. He was the founder of the Armenian radio program at the Cyprus Broadcasting Station. Apart from that program, he had been presenting many others for 46 years.
As an opera singer, he performed in Nicosia, Athens, Beirut, Aleppo, Cairo, Paris and other cities. He was the composer of numerous songs and symphonicpieces.
Sebouh Apkarian was the artistic director and the chief conductor of Kohar Symphonic Orchestra and Choir for the last ten years.
He passed away on 5 August 2014, in Nicosia.