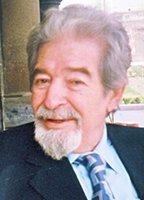 Varoujan Khedeshian (1937-2015)
Varoujan Khedeshian was born in 1937 in Lebanon. He started his first steps in theater with George Sarkissian at the age of 16.
In 1960, he moved to London, where he graduated from the Webber Douglas Academy of Dramatic Art.
In 1965, he returned to Lebanon and joined the Hamazkayin "Levon Shant" Dramatic Troupe. Two years later, he founded "Theatre 67" Dramatic Troupe. Over the years, together with "Theater 67" and the Hamazkayin's "Gaspar Ipegian" Dramatic Troupe, he staged the performances "Witches of Salem", "Price", "Watched from Bridge", "All my Children", "Prisoner of Second Avenue", "The Emperor", "Ancient Gods", "Barefoot in Public garden", "Along Heaven Road", "Great Master Solens", "Up to where?", "Merchant of Venice", "Play your Trumpet", "Mara Sat," "Superintendent", "Venice Binaries", " Cher Noir "," Alafranka "," Piper from Armenian Mountains ","Eastern Dentist" and a number of other performances.
In 1979-1987, V. Khedeshian staged five dramatic performances in Armenia. In 1987, he received "Petros Adamyan" Medal (the first Diaspora Armenian, which received this award during the Soviet period).
In 2000, Catholicos Aram I of the Holy See of Cilicia awarded him with "St. Mesrop Mashtots "Order. That same year, the Central Executive Board of Hamazkayin honored him by the Order of Hamazkayin. In 2004, he received the Order of the Institute of Arts of Lebanese University.
In 2008, the Ministry of Culture of the Republic of Armenia awarded him the gold medal.
Catholicos Karekin II awarded him Medal "St. Sahak-St. Mesrop" of the Armenian Apostolic Church.
Khedeshian taught dramatic art in the University of Lebanon for more than 20 years and managed the Hamazkayin "Gaspar Ipegian" Dramatic Troupe.
Khedeshian translated 22 dramatic pieces from English into Armenian.