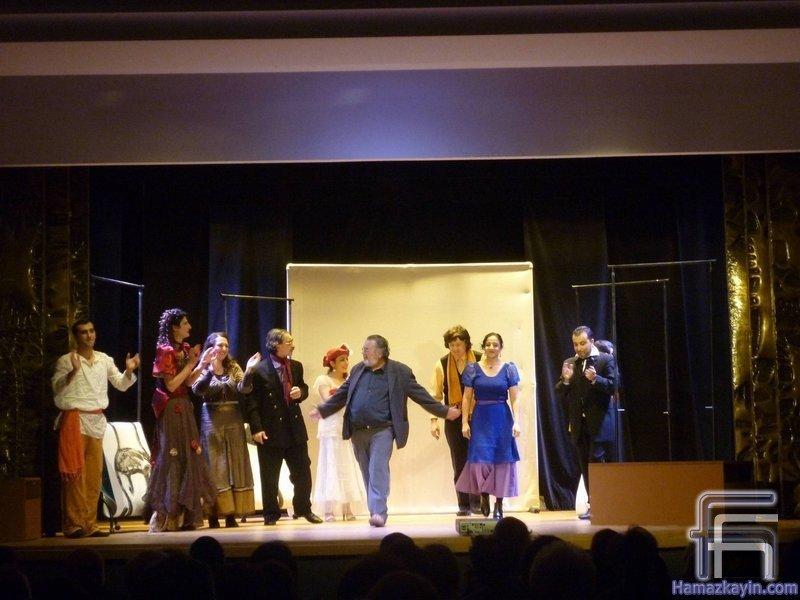 The Theater Troupe of Hamazkayin in Valence was invited by the Hamazkayin Chapter in Paris to perform Hagop Baronian's satire "Alafranga" to the Armenian community in Paris, on Sunday, November 24, 2013.
Originally, "Alafranga" was written in Turkish, with Armenian letters. As it was explained in the performance booklet, "from 1840–1870, a literary tradition of writing in Turkish with Armenian letters became widespread in Constantinople, as a means of educating Turkish-speaking Armenians. Eventually, however, with the opening of Armenian schools, this trend phased out."
If we replace Turkish with French, the topic becomes relevant to the Armenian community in France and elsewhere, where the need for Armenian community schools is great and where Armenian-speaking theater performances are rare occurrences. However, the audience, who had filled up the Rossini Hall in spite of the bitter cold weather, embraced the performance and the issues it discussed, and expressed its thirst for performances in Armenian. The actors were all talented young Armenians from France, Lebanon, Syria, or Armenia.
This successful and contemporary production of "Alafranga" presented Baronian's play through a novel and interesting approach of shadow theater and quick interruptions of black-and-white films.
The Hamazkayin Chapter in Paris truly thanks Simon Mnagian and his theater troupe, as well as each and every actor for the great performance. It also thanks the audience and the municipality of the 9th arrondissement for providing the theater hall.
After its performance in Paris, "Alafranga" will be staged in Lyon, Nice, Valence, and Marseille. It will also tour in Brussels and Geneva.