Regional
USA & Canada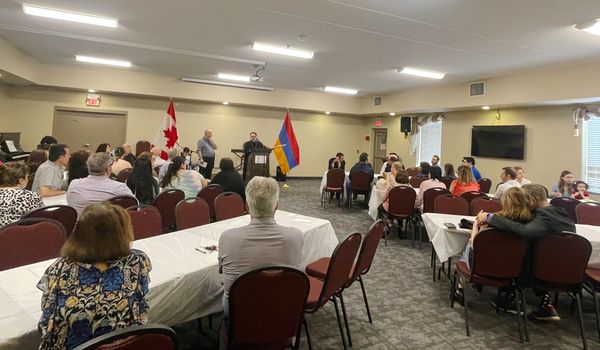 On May 29, 2022, the Hamazkayin Datev Chapter Executive Board of Cambridge, Ontario, Canada, held a small gathering of members to celebrate the anniversary of Armenian independence. A blessing of the flag ceremony took place at the church before the event.
Dr. Krikor Jivelikian, a member of the board, made opening remarks. Longstanding members Garbis Haneshian, Maro Hovhannisian, and Houri Kasamanian were honored for their service.
Rev. Fr. Keghart Kosbakian installed a mural of Hamazkayin founder Nigol Aghpalian in the Postanjian Hall.
Talented singers Talar Siminian, Harut Sepetjian, Karlo Aharonian, Sako Kesablian performed, accompanied by Hamo Arzoumanian and Hovsep Karamanougian. Young Garo Jivelikian, on piano, performed the Armenian national anthem, pleasing the audience.