Europe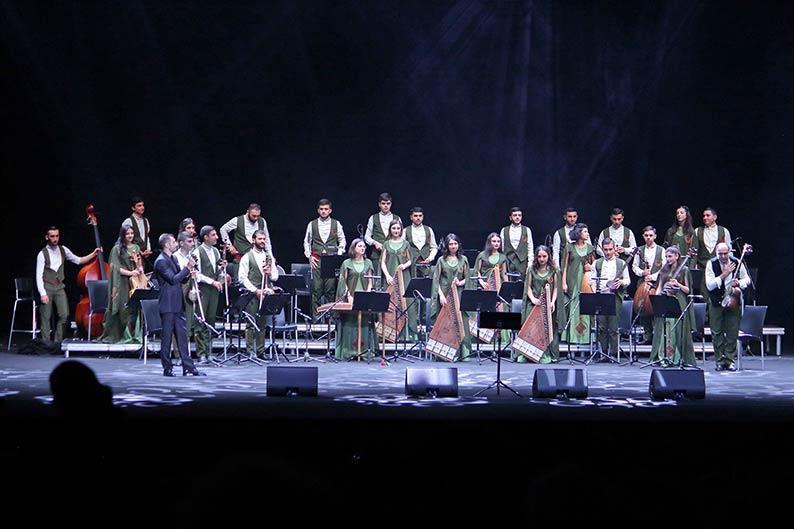 We hear the dhol. The musical "Procession of Stars" begins its journey from the Armenian Mecca, Mount Ararat, through the artisanship of the Armenian world and high art.
Vartan Badalian's voice takes us through time, spirit and thought. "Tamam ashkharh bdud yega" (I have traveled the whole world), says Sayat Nova, and assures his beloved that he found no one like her. He pleads, "Sari sirun yar, sari mekhag per" (Pretty lover from the mountains, bring me mountain carnations). Badalian is joined by Lusine Mirzakhanian, with her honey-sweet voice. Magical, heartrending melodies are heard: "Grung" and "Bingeol." The Naregatsi orchestra accompanies, under the able direction of Artem Khachatur. The dancers of the Lusegh dance ensemble, taught by Suren Khachatryan, enchant us with their spry movements.
Instrumental music, song, and the "Henzeli" and "Kochari" dances take the audience to the Armenian highlands. On the screen, we see Armenian carpets and images of glorious places in Armenia: Ararat, Yerevan, Dilijan, Ani, Sardarapat.
On November 20, 2019, hundreds of Armenians and Greeks at the Christmas Theatre enjoyed an exceptional presentation. The "Procession of Stars" was based on the story by that name by Hamasdegh. The Hamazkayin Attica "Sos-Vani" Chapter Executive Board had arranged for 300 tickets, at special low prices, for Armenians and their friends, and had arranged for three buses to transport them.
Armenians far from Armenia, full of longing, always ask the "Groong" (Crane) "don't you have a bit of news from our world?"
The conclusion is that in Armenia and the diaspora Armenians live, survive, and create.
Jacques Damadian