Middle East
Regional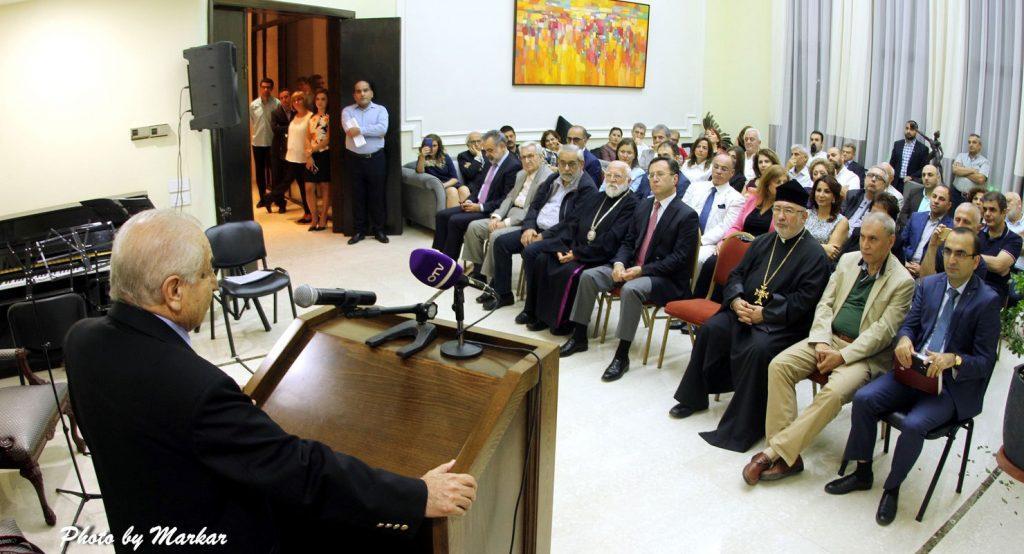 A book launch took place on October 24 in Beirut for historian Yervant Pamboukian's new book, The Letters of Aram Manoukian. Held at the Armenian Embassy under the auspices of the Ambassador Samvel Mkrtchian, the program was organized by the Hamazkayin Lebanon Regional Executive's Literary Branch. On the occasion, Hratch Dasnabedian's edited volume Aram, rereleased with Garo Hovhannesian as editor, was also presented.
The evening's program began with the national anthems of Lebanon and Armenia, followed by opening remarks from Jack Hagopian. He said the newly formed Literary Branch saw fit to organize, as its first program, the launch of The Letters of Aram Manoukian, edited by Yervant Pamboukian and published by the Armenian Studies Research Institute of Yerevan State University.
He said, "We are used to presenting the greats of our history through their moral character, underlining their moral conduct, their chaste behavior, and exemplary life; we never delve into what they have to offer today to the new generation or to those at the helm of the ship of state. In the Armenian reality, Aram Manoukian and his contemporaries moved the national-revolutionary agenda forward; they followed the national-revolutionary path, leading from almost nothing, through the daily thicket of revolutionary struggle and experience, to the establishment of an independent republic.