Regional
USA & Canada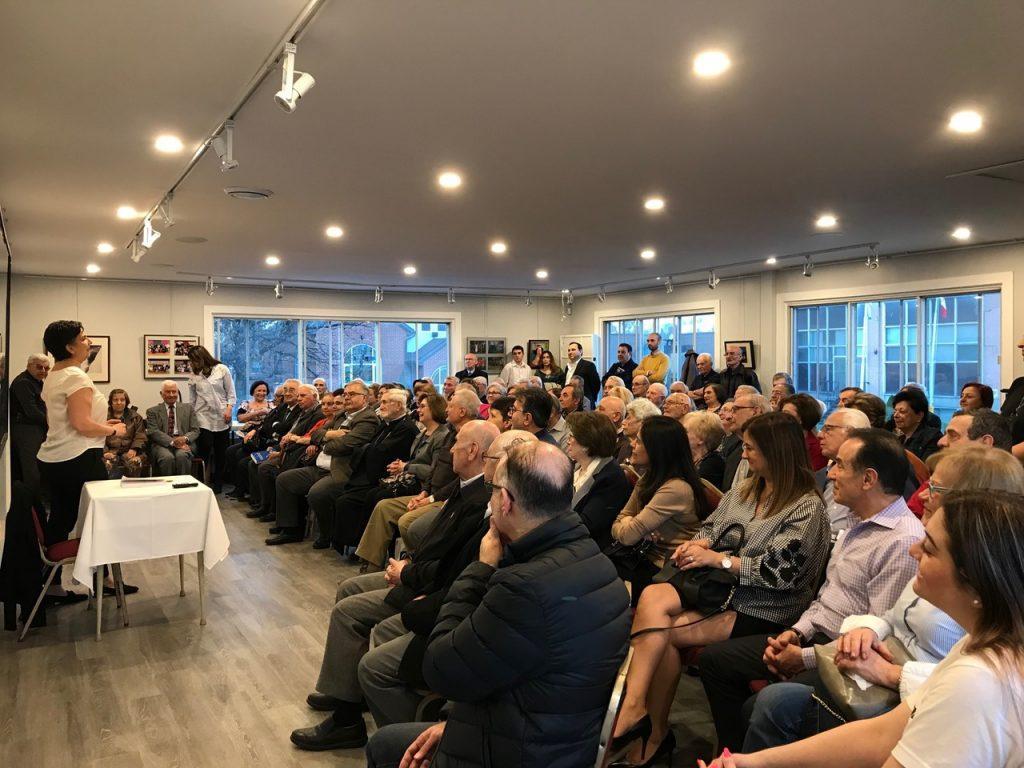 On May 16, 2019,  Armen Garo & Chaké Gunjian Centre in at the Armenian Community Centre of Montreal, a book launch was held. Dr. Ohan Tabakian's two books, Husher yev Abrumner Yerazayin Haleben (Memories and Episodes from Dreamy Aleppo) and Pzhishgin Gyanken Abrvadz Baher (Moments from the Life of a Physician), were the focus of the event, organized by the Hamazkayin Montreal "Sanahin" Chapter Executive Board. Archbishop Suren Kataroyan, vicar of the Armenian Prelacy of Canada, was among the guests.
Nanor Ashna Sinabian-Libarian welcomed the guests. While people might think the author was born in Aleppo, where he spent his childhood and early teens, Ms. Sinabian-Libarian said, he was in fact born in Damascus. She then read two poems titled "Birthplace." The first was by Vahakn Davtian; the second, by Hamo Sahyan.
Sona Titizian-Gedigian presented the volume, Husher yev Abrumner Yerazayin Haleben. Reading the occasional excerpt, she described the content of the volume. "Besides the personal memories, the book also serves as documentation. It paints an almost comprehensive picture of life in Aleppo, the way of life, mores, and traditions, the feel of the place, the mindset, the behavior, the psychology. The author observes his environment, people, neighbors, friends from the neighborhood and school, their games, their adventures, their memories," she said.
Reflecting on the author's language and tone, Ms. Titizian-Gedigian said, "The writing is expository. The thoughts and feelings are open. There is no showing off in the structure of the sentences. The author has remembered and put his memories into familiar words, on paper, without gilding them."
Archbishop Kataroyan spoke. Dr. Tabakian had dedicating the volume to him, and the archbishop thanked him for that. He lauded the author's way of seeing and describing people and events.
The second book, Pzhishgin Gyanken Abrvadz Baher, was discussed by Vicken Aprahamian, editor of the Armenian-language Horizon Literary Supplement. After describing the content of the book, Mr. Aprahamian said, "What picture of our lives will generations coming of age in a few decades have? There are minutes of meetings and reports, often more elaborate than those of a century ago; we have plenty of news stories in the pages of the press. These documents are missing a fundamental quality, however: the human factor. They are skeletons. Memoirs are the meat on those bones, and they will provide, for our descendants, a full image of the past. For a breathing and living image, memoirs are irreplaceable."
Dr. Ohan Tabakian said words of thanks after which Ms. Sinabian-Libarian announced that the author was donating all the proceeds from the book to Hamazkayin.
Sona Titizian-Gedigian