Regional
USA & Canada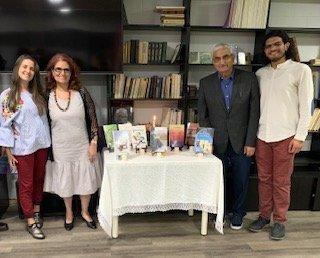 The Literary Committee of Hamazkayin Western U.S.A. organized a book launch, for Yes desa Anin ("I saw Ani") by the well-known polemist, intellectual, and educator Kevork Bedigian. The event was held on October 3, 2019, at the Hamazkayin center in Glendale, California.
Rev. Fr. Ardak Demirjian represented the prelate, Archbishop Moushegh Mardirossian. Members of the regional executive board, the literary committee, and the author's family were also present. Among the many book-loving and culture-loving attendees were friends of the author from the Jemaran in Aleppo.
Maggie Babikian, chairperson of the organizing committee, opened the event. She read a ode to the Armenian language penned by Mr. Bedigian. This reading left a great impression on the attendees. She then noted that the month of October is dedicated to Armenian culture and particularly to the Holy Translators; she found this month a propitious time to hold a book event.
Bedigian has, since his student days, been a servant at the pagan altar of Armenian literature, giving the diaspora the gift of fifty years of service. The longtime educator Arpy Hamparian Jierian took the stage next to present the book.
She first presented the book in general, noting the year of publication, the place, and the contents. She also read from the foreword by Shakeh Mangasarian.