Middle East
Regional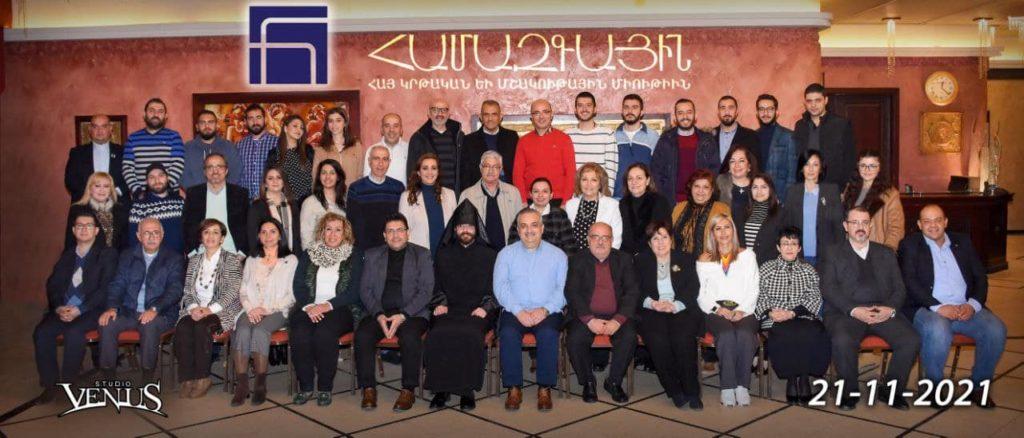 The 23d Convention of the Hamazkayin Armenian Educational and Cultural Association Syria Region took place on November 21, 2021, at the Aram Manoukian House in Aleppo. Present were 22 delegates from the Aleppo Nigol Aghpalian, Kessab Hamo Ohanjanian, Latakia Vahan Navasartian, and Kamishly (Qamishli) Avedis Aharonian Chapters, along with representatives of the Hamazkayin Central Executive Board, the Regional Executive Board, community leadership, and guests.
The convention examined the activities of the Regional Executive Board over the last year and evaluated it. The convention then systematically considered the agenda for the coming year and adopted resolutions to set the direction of the region.
At the conclusion of the convention, the new Regional Executive Board was elected. At its first session, the board elected its officers. The list appears below.
Maral Dikbikian, Chairperson
Salpi Tufenkjian, Secretary
Garo Diermenjian, Treasurer
Shushig Ghazarian, Accountant
Aram Aramian
Sako Khaloyan
Sevan Manjigian (Kessab)
Raffi Hagopian (Latakia)
Rita Der Sarkisian (Kamishly)
Divan of the 23d Regional Convention
Hamazkayin Syria Region