Middle East
Regional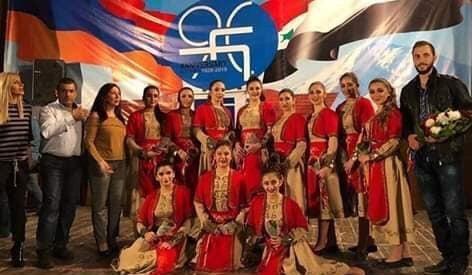 Hamazkayin's Levon Shant Chapter organized a celebration on November 23 for the 90th anniversary of Hamazkayin, Kantsasar reports. The event took place at the Aminian Hall. Attendees included member of the parliament of Syria Dr. Nora Arisian, the Very Reverend Father Kevork Baheian of the Armenian Catholic Church, and the representative of the A. Aharonian Center.
The program began with the national anthems of Syria and Armenia.
Speaking on behalf of the chapter executive board, Maral Kateklian said, "The better we know our culture, the more we love it and appreciate its values. Our culture is rich, beautiful and fulfilling, we need to show it love as it has universal worth, as it enriches the lives of all humanity.  Culture is the basis for our people's existence, and Hamazkayin is a means for maintaining it, developing it, and spreading it."
A rich artistic program was then presented to the audience. Serli Brunsuzian (violin) gave an impressive performance, accompanied by Zhaneta Brunsuzian on the piano.
Meghri Bedirian-Abajian performed national and folk songs. Her inviting voice created a warm atmosphere. Nareg Abajian accompanied her on piano. Next, Asbed Kelkhacherian inspired the audience with a series of nationalistic songs, with Shant Keshishian on piano.
Mrs. Ruzan Pentezian-Severeglian gave a dazzling recitation of poetry by Gevorg Emin.
The Keghart dance group of Latakia performed some folk dances under the art direction of Suren Kirazian. The group slaked the thirst of the art-loving audience, earning their warm applause.
The day's speaker way Yesayi Havatian, who had come especially from Anjar. He spoke of the founding and ninety years of achievements of Hamazkayin, noting, "Intellectuals Levon Shant, Hamo Ohanjanian, Nigol Aghpalian, and others, who were part of the generation that established the Republic of Armenia, were well aware that the Armenian people in the diaspora needed to keep their national identity and culture, immersed as they now were in the melting pot of other cultures. To address this pressing need, they established Hamazkayin. The core of the mission was to keep the Armenian people closely connected with their culture and homeland. In the current situation, the need to maintain and develop our culture, especially in the context of globalization, which is consuming the new generation, puts us before new challenges. Hamazkayin has a long road ahead to continue its mission and especially to draw in young people, trusting them to rise to the occasion."
There was a reception, which included cutting an anniversary cake.