Middle East
Regional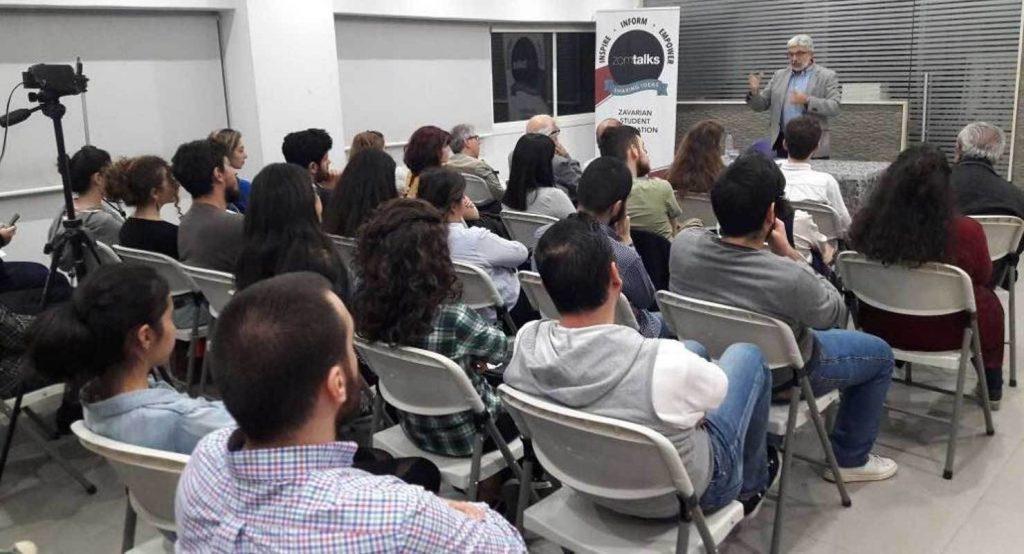 Zomtalks of Zavarian Student Association, in cooperation with Kaspar Ipekian Hamazkayin Theater Group, organized a lecture on Monday, 19 March 2018, at 8:30 pm, at Hamazkayin Simon Vratsian Club. The theme of the lecture was Modernity, Politics and Art. The key speaker was Khachig Der-Ghugasian.
Naira Baghdasarian, Zomtalks member, delivered the opening speech noting that such meetings are the best occasions for developing a critical thought. Seruzh Hovsepian delivered a welcoming speech on behalf of the Kaspar Ipekian Hamazkayin Theater Company. He briefly introduced the key speaker Khachig Der-Ghugasian and invited him to the stage.
Being specialized in international relations, Khachig Der-Ghugasian started his speech with post-modern theory. Speaking about the term of modernity, he touched upon the two events that took place in 2016. The first was the referendum of June 23, in Britain, known as Brexit. British citizens voted then for starting a process of the Great Britain's withdrawal from the European Union. The second was the election of Donald Tramp as US President.
The daily newspapers signaled a world-wide alarm under the light of those two events. The speaker asked whether that alarm has ended today. He said that one of the alarming challenges of modernity is the capitalism. He also noted that if the Great Britain comes out of the European Union, it will start to split and collapse.