Regional
USA & Canada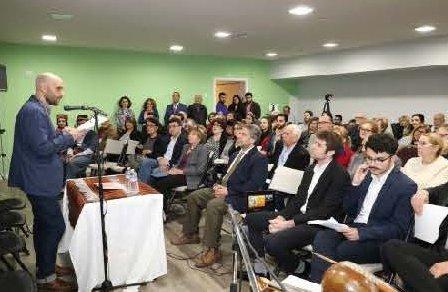 It is not every literary creation that succeeds in roiling still waters with big circular waves, like a stone hitting a lake.
Andranik Tzarukian's book-length poem Tught ar Yerevan (Letter to Yerevan) has made waves since its original publication in Aleppo in 1944. The poem is framed as a response to a resentful, minor Soviet Armenian poet, Gevorg Abov, and his short poem, "Menk chenk moratsel" (We have not forgotten). Tzarukian's work took the entire Armenian diaspora by storm.
For those Armenians who have been around for at least half a century, the work might have been seen as a bittersweet memory that could serve as a nostalgic read; after the fall of the Soviet Union, one might have thought, this sort of literature might have had no reason to be command renewed attention—least of all among readers who had never known a world that featured the USSR. But the literary evening showed an entirely different reality.
Mr. Melkonian, noting the exceptional success of the evening, said, "I confess, when the Sardarabad bookstore asked us to organize this launch, I said skeptically, that Letter to Yerevan was obsolete and few people would care to attend."
But to the great surprise of the Literary Committee and the older generation in Los Angeles, the book has generated the kind of interest today that it generated 75 years earlier.
This is why many chapter of Hamazkayin have undertaken to organize events around the publication of the English translation of the book.
In the Los Angeles area, the Western U.S. Regional Executive Board's Literary Committee, in cooperation with Sardarabad Bookstore, Asbarez daily, Hairenik Weekly, the Shant Student Association, and the AYF, did its part, organizing an event on March 19, 2019.