Middle East
Regional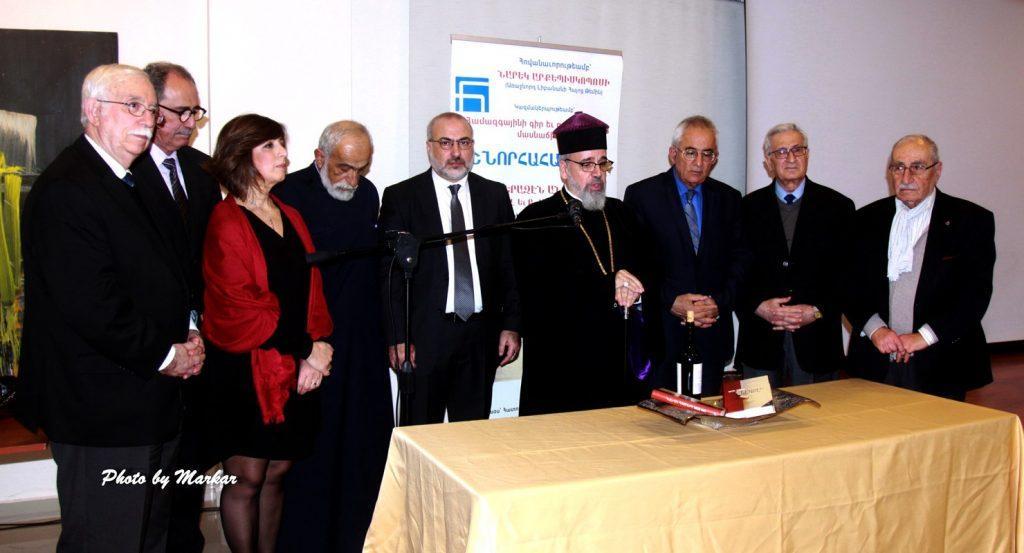 Under the auspices of the prelate Archbishop Nareg Alemezian, an event was held on February 7, 2019, at the Piunig Hall of the editorial offices of Aztag, celebrating the publication of volumes 1 and 2 of Khachig Dedeyan's collection of poems, Yerazen antin (Beyond the dream). The event was organized by the Literary Committee of Hamazkayin.
Jacques Hagopian welcomed the audience. He said poetry is a valuable mode of expression and emphasized that it has been important in Armenian literature. He said one of the goals of the Literary Committee is to stand by those who believe in diaspora Armenian literature, and present their work to the public. The celebration, he said, is in furtherance of this goal.
Dikran Jinbashian spoke on behalf of the committee. He said language and culture are generally among the most essential characteristics of a nation's identity. For Armenians, deprived on land, national survival depends on a spiritual homeland, and Hamazkayin serves to create and cultivate that spiritual place. Various aspects of culture have their own bodies in the organization, he said, but not so literature, which is an individual undertaking requiring the right environment, which now no longer exists. According to Mr. Jinbashian, those who wish to express themselves and commit their internal voice to paper have become rare in the diaspora and, to an extent, in Armenia. It remains for us to take solace in what little is still written, generated, and created. He said poetry edits and serves as a living witness to feelings, events, and situations. Putting that inspiration down in concise form means rejecting the trivial, the detail, and keeping the pureblooded essential real word. "Khachig Dedeyan is a purveyor of the essential word. The two volumes bring together his three monographs, pieces scattered in the press, and unpublished works for us to appreciate in one place," he concluded.