Middle East
Regional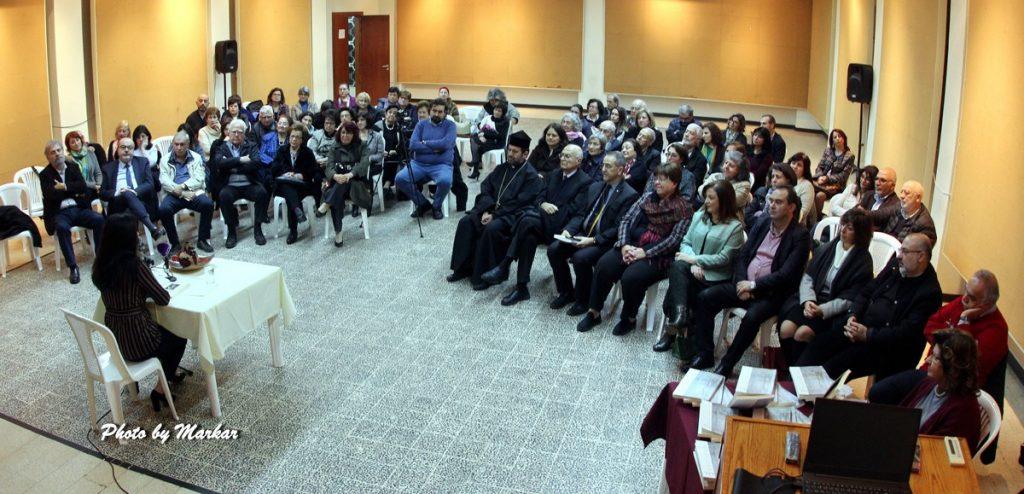 On February 8, 2019, Hamazkayin's N. Palanjian Center in Beirut hosted Camilla Yerganian-Keshishian's Dzaghgadz Tsav (Flowered pain) book launch party, hosted by Hamazkayin's Gomidas Chapter.
Opening remarks and a welcome were given by Seta Unjian-Khedeshian. She said that Yerganian-Keshishian is not only a brilliant pianist, but an excellent poet as well, with six collections of poetry. Camilla was born in Yerevan. She completed her undergraduate and graduate work at the Komitas Conservatory in 2003. She won the 1993 Arno Babajanian piano prize. In 1999 she won the Ruben Sevak literary prize in Yerevan, and the Sebouh Sarksian all-Armenian literary prize in 2003 in California. Since that same year, she has been a part of the Armenian Writers' Association.
Ms. Unjian-Khdeshian, at the end of her speech, said that all the proceeds from Camilla's books would be dedicated to the Armenian Miniature Painting Association fund.
Camilla Yerganian- Keshishian, the author, also spoke at the event. At the beginning of her speech, she extended thanks to the leadership of Hamazkayin's Gomidas Chapter, the book's underwriter, and all those who have helped in the process of getting the book to where it is today. She also thanked miniature painter Harutyun Torosian for the book's cover art.
The author proceeded to say that to write is to enter a sacred altar.