Regional
USA & Canada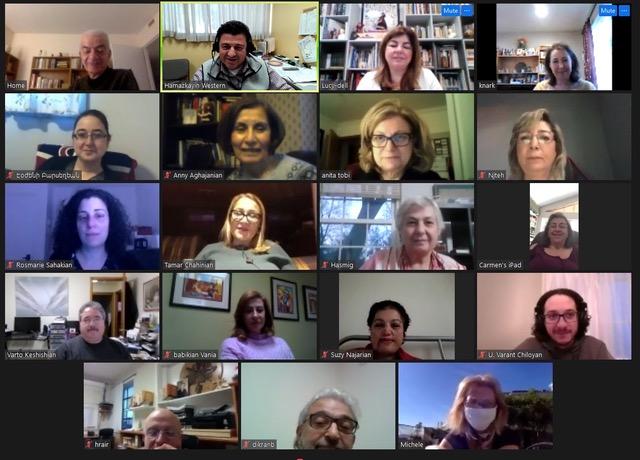 The Hamazkayin Regional Executive Boards for the Eastern United States, the Western United States, and Canada held their twelfth triregional meeting on December 5, 2020. The meeting was held remotely, online. Attending the meeting were four members of the Central Executive Board residing in North America, five members of the Eastern U.S. board, eight members of the Western U.S. board, and five members of the Canada board.
The three regional boards reported on their new initiatives of the previous twelve months, most of which were implemented online because of the pandemic. Notable among these are the Hartag broadcasts of the Western U.S. region, the Petag workshops of the Eastern U.S. region, and the conversational Armenian classes of the Canada region.
Next on the agenda was the ArtLinks youth gathering jointly sponsored by the three regional executives over the last six years; the 2020 gathering was online. Organizational and financial issues surrounding the future of the program were considered. The meeting decided that the 2021 gathering would be held in person, if possible, in California; the 2022 gathering in the Eastern U.S., and the 2023 gathering in Canada.
The meeting discussed how to improve communications and the exchange of programs among the regions and how to take better advantage of government and foundation resources available to cultural and educational institutions. The meeting adopted apposite decisions in these matters.
The meeting considered the Children of Artsakh initiative of the Central Executive Board, focused on addressing the educational, cultural, and mental health needs of children in Armenia and Artsakh who have experienced the devastation wrought by war in Artsakh. The three boards agreed to find financial resources for the program over the coming months.
The meeting confirmed the commitment of the three boards not only to continue, but to grow the activity of Hamazkayin in the United States and Canada.
9 December 2020                                  Hamazkayin U.S.A. Eastern Region Regional Executive Board
                                                           Hamazkayin, Western United States, Regional Executive Board
                                                                                    Hamazkayin Canada Regional Executive Board