Regional
USA & Canada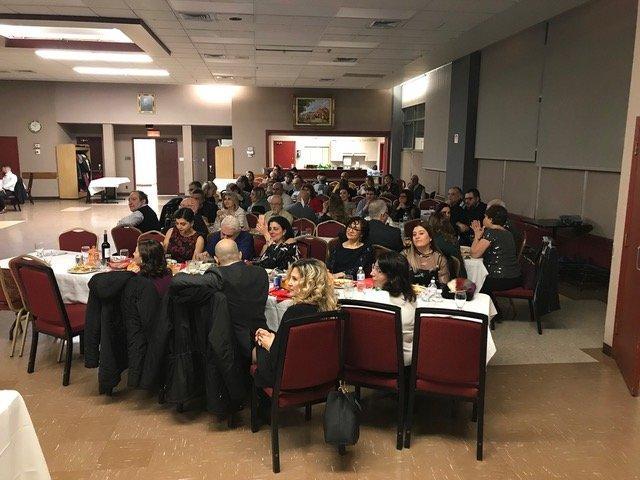 On January 11, 2020, in unfavorable weather, some 150 Hamazkayin members and supporters gathered at the Avetis Aharonian Hall at the Armenian Centre in Montreal to greet the new year together. Among the invitees this year were the members of the executive board of the Istanbul-Armenian Cultural Association.
Tamar Chahinian, chairperson of the Hamazkayin Montreal "Sanahin" Chapter Executive Board, greeted the guests in the board's name. She thanked all those present who, over the past year, had participated and supported Hamazkayin in all its activities: members of committees, choirs, dance groups, and the theater group; those involved in book dissemination, the library, the conservatory, the children's story hour, NetLinks, and the Hamazkayin Club, whose volunteer work made it possible for the chapter to succeed. She also thanked employees.
A certificate of appreciation was given to Hampartsum Papazian. Ms. Chahinian spoke of Mr. Papazian's background and his activities and said, "Although he has taken neither executive office nor committee membership in Hamazkayin, except in the Moushegh Ishkhan Library, where he has dedicated years of hard work, but he is always present for our activities and membership meetings. He is the first there, even before the coffee is brewed. We truly value moral support and encouragement for our activities."
An encouraging number of young people were in attendance, especially from the "Ani" Dance Ensemble and its committees. Both dance ensembles of the chapter performed. Under the leadership of Joe Avakian, the ensemble performed "Ha Nina Kochari" and led by Eva Airapetian, they performed the dance "Sardarabad." The dance was dedicated to the memory of Touman Gurunlian, a recently deceased former member of the ensemble.
Levon Kaprielian entertained the guests with his satiric and theatrical talent, performing a short monologue titled, "We're confused."
The Hamazkayin NetLinks Committee had prepared various games that cheered up the guests.
At the end of the evening, raffle tickets were sold, and some donations were made to cover the expenses associated with the event. The names of the donors appear in Horizon.
The board is especially grateful to all the donors and those who provided gifts for the raffle.
The evening continued in a warm, social atmosphere, with good cheer and games, with singing and dancing. The guests left satisfied, proud and grateful.