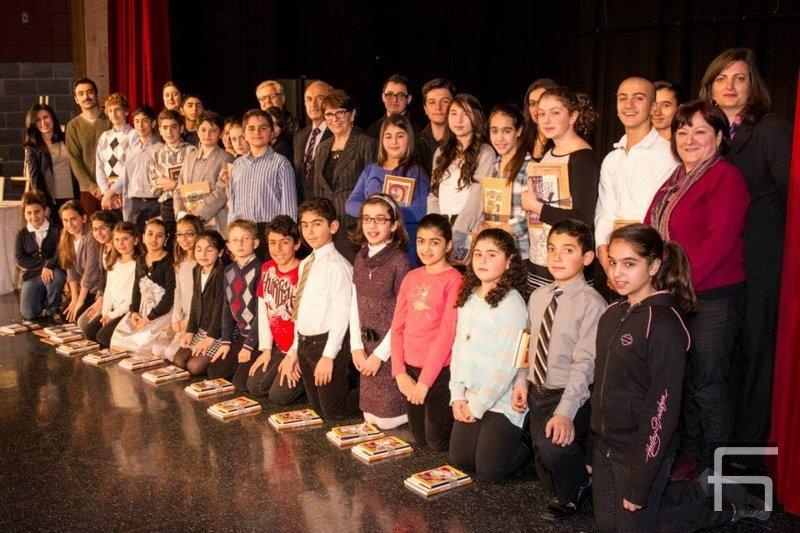 Inspired by the pontifical letter of His Holiness Aram I, Catholicos of the Great House of Cilicia, that declared 2013 as "the Year of the Armenian Mother," Hamazkayin organized a recitation event dedicated to Armenian mothers. The event was sponsored by writer and reciter Mrs. Azniv Torossian, who had arrived in Canada from Lebanon.
Children and youth, parents and grandparents, as well as a group of literary enthusiasts gathered at the Hamazkayin Theater of the Armenian Youth Center on Saturday, November 30, 2013 at 3:00 p.m. Two microphones were set up at the center of the stage, which was decorated with a painting by artist Puzant Godjamanian depicting a mother and a child.
Megheti Mnatsaganian and Varak Babian, members of the Literary Committee of Hamazkayin's Klatsor Chapter, were the event hosts. Reciting alternate lines from the poem "My Mother" by Hovhannes Shiraz, Megheti and Varak took the center of the stage to welcome the audience.
In her speech, Megheti said: From our numerous poems, it is obvious that throughout history Armenian mothers have not only been model parents, reflecting spiritual, ethical and national values, and have not only been strong pillars of their families and dedicated educators of their children, but they have also played an active, exemplary and respectable role in the most important moments of our history, demonstrating immense levels of self-sacrifice.
Varak explained that the event was not a contest; its aim was to bring together people who love poetry and recitation, in order to present a series of poems. He added: we hope that these young people will continue loving their mother tongue and poems, becoming talented reciters in the future.
The more than 30 participants were students from elementary to high school classes. The program kicked off with the poem titled "In Memory of My Mother" by Azniv Torossian, recited by Sassoun Margarossian. It was followed by Barouyr Sevag's popular poem "Mother's Hands," recited by Isabel Agop, Silva Gaboudigian's "To My Mother" recited by both Sara Bayrakdarian and Hayg Mardoyan, Avedik Issahagian's poem also titled "To My Mother" recited by Anahid Hagopian, Jack Hagopian's "Flower Bouquet" recited by Taniel Cherkezian, and "The Scale" by Hovhannes Shiraz, which has touched the hearts of many Armenian youngsters during their school days, presented by Tavit Parsamian, Nanar Chilingirian, Theresa Mardirossian, Dessil Saghdejian, Caroline Shahverdian, Zareh Markarian, Mikayel Boghossian, and Vazken Ayvazian. Another poem by Hovhannes Shiraz titled "I Found It" was recited by Ani Khachatryan. Afterwards, Eric Bedrossian and Gabriella Batigian presented "A Serenade to My Mother" by Yeghishe Charents, while Melania Kaltagian, Maria Parsamian, and Shahan Terzian recited Hamasdegh's "My Sweet Mother." Another poem by Silva Gaboudigian titled "My Mother" was recited by Titer Kargotsian. Taniel Movsessian, Lara Hovagimian, Nazeli Hakhverdian, Maral Der Ohani, and Vani Yakoubian presented the much-loved poem "Prayers of an Armenian Grandmother" by Moushegh Ishkhan. "Dream," a poem by Smpad Shahaziz, was recited by Raffi Kelebozian. Gegham Saryan's "To My Mother" was recited by Lara Demirjian and Nancy Sabounjian. "My Mother" (Hovhannes Shiraz), "Prayers of an Armenian Grandmother" (Moushegh Ishkhan) and "Mother, Oh Mother" (Vahagn Tavtyan) were recited by Michael Boyajian, Krikor Aintablian, Alain Chilingirian, Lena Darakjian, and Nigol Yakoubian.
Afterwards, Megheti Mnatsaganian invited to the stage Aren Mnatsaganian, the first-prize winner of the youth section of the writing contest organized by the Regional Committee of Hamazkayin in Canada, to recite his own poem "Mother."
Megheti Mnatsaganian thanked all the participants and their teachers for their dedicated efforts. She announced that the creation of a recitation club is part of the upcoming plans of the Literary Committee which will ensure that high-quality recitations become a part of future events in the community. All participating students were rewarded with Armenian books.
Representative of the Literary Committee Eugenie Parseghian thanked the organizing committee and presented the event's sponsor, Azniv Torossian. Born in Beirut, Lebanon, Torossian has received her primary and secondary education at the AGBU Yervant Demirjian School and at the AGBU Taroushi Hagopian Secondary School for Girls, respectively. She has started writing during her primary school years. From an early age, she has loved the stage, has recited poems, and has received many prizes. She is married to Melkon Torossian; they have four children and seven grandchildren. Her first book of poems, "Pomegranates," was published in 2008. Her poems have also been published in Aztag Daily, Lebanon.
Eugenie invited Mrs. Torossian to the stage to thank her for her support. She also invited chairperson of the Klatsor Chapter of Hamazkayin, Lorig Katerdjian, to present a painting as a gift to the event's sponsor. Afterwards, Mrs. Torossian charmed the audience with her recitation. The event was concluded by the blessings of Very Reverend Father Meghrig Parikian.
Tamar Donabedian-Kouzouyian