Middle East
Regional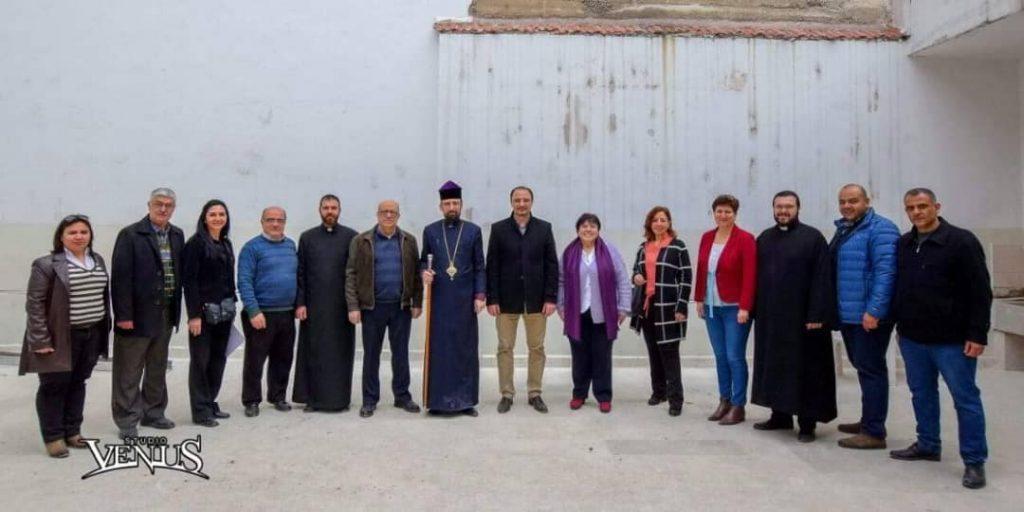 Notwithstanding the conditions caused by the pandemic, Hamazkayin's Zavarian Cultural Center in Syria continues to be built.
On the morning of April 6, 2020, Bishop Masis Zobouyan, Armenian Prelate of Syria, accompanied by Rev. Manouk Parikhanian, Harout Kilislian, chairperson of the Prelacy executive board, and Rev. Khoren Bertizlian visited the Hamazkayin Zavarian Cultural Center in Nor Kiugh.
At the entrance to the center, the bishop was welcomed by the members of the Hamazkayin Regional Executive Board for Syria and the trustees of the center. The prelate was familiarized with the building, construction plans and activities, and how each part of the building served the various cultural groups that will use the space. Berj Boghigian, chairperson of the Regional Executive Board, noted that upon the completion of the construction, the building will be a comprehensive cultural facility, with dedicated space for the choir, the dance ensemble, material arts, instrumental music, theater, and the Armenian Studies Institute.
The prelate praised Hamazkayin's efforts to maintain Armenian culture in spite of the destruction brought about by the war. He gave his fatherly blessings and expressed his full support for the Regional Executive Board. On the occasion of Palm Sunday, the cleric handed out blessed olive branches to everyone.