Europe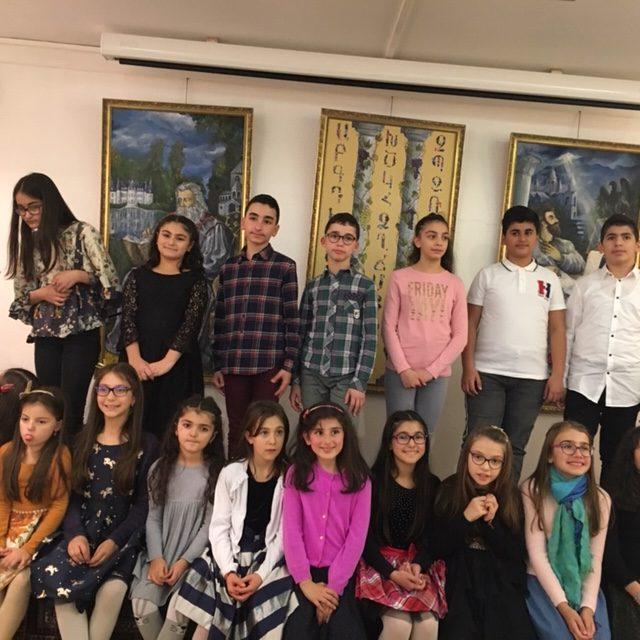 As part of the celebrations of the 100th anniversary of the Armenian republic and the 90th anniversary of Hamazkayin, the Paris Chapter of Hamazkayin organized a poetry recital competition for children attending Armenian day schools, Saturday schools, or private schools anywhere in France. The children competed in two groups: 8 to 12 years old and 13 to 17 years old.
The event took place on November 18, 2018, at the Armenian Cathedral of St. John the Baptist in Paris. The Nourhan Frenkian hall was brimming with children, parents, and teachers.
Each participant had to recite two poems. For the younger group, Moushegh Ishkhan's "Hay Lezun Dunn e Hayun" was required. For the older group, Daniel Varoujan's "Dzon" was required. In all cases, the choice of second poem was up to the participant.
Participating were the Hamazkayin Djemaran in Marseilles; the day school and the Saturday school of École Hamaskaïne-Tarkmantchatz in Issy-les-Moulineaux, outside Paris; the AGBU Paris Saturday school; the HayTas Saturday school; Tbrotsaser; the Surp Mesrob-Arabian school in Alfortville; and the Hrand Dink school. Some students also participated as individuals.
The stage was occupied for about four hours as the children and teenagers performed. Aside from the required poems, the students recited works by S. Gabudigian, Zahrad, H. Shiraz, Ye. Charents, H. Sahian, Gh. Aghayan, Kh. Tashdents, M. Medzarents, Z. Khrakhuni, Sh. Nartuni and M. Bchakjian.
The jury was composed of teachers Hilda Kalfayan-Panosian, Armine Kevorkian and Garabed Dakesian and reciters Marina Hovhannisian and Ardashes Vosganian. After long deliberation, the committee selected outstanding performers from each of the groups:
In the 8-to-12 group, first prize went to Alik Jyumbyushian (individual participant), second to Tea Khacherian (Surp Mesrob-Arabian) and Garabed Keshishian (Tbrotsaser), and third to Irina Makarian (HayTas) and Artyur Hovsepian (Surp Mesrob-Arabian).
In the 13-to-17 group, first prize went to Mane Aghasarian (individual participant), second to Alicia Alajian (Hamazkayin Marseilles), and third to Georgette Teperjian (Hamazkayin Marseilles).
Special audience prizes want to Levon Emkemjian (Tprotsaser) and Lilit Aghasarian (individual participant).
Mr. Dakesian of the jury said all participants were worthy of a trophy but they had to make a choice. In fact, every student received a present. The gifts were donated by "Keerk" publishers, H. Baghdasarian, and S. Shnorhokian. The winners also received certificates.
A joyous atmosphere reigned after the program.