Regional
USA & Canada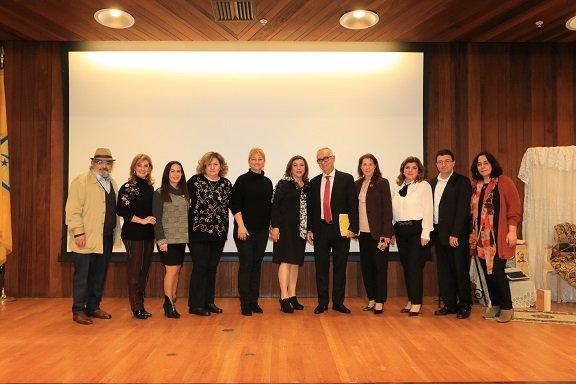 Four of the great names in of Armenian life—Levon Shant, Gomidas, Hovhannes Tumanian, and Yervand Odian—were born in 1869, and the year 2019 was their sesquicentennial.
The Hamazkayin Regional Executive Board for the Western United States on December 8, 2019, held an event at the Glendale, Calif., Central Library to commemorate the four.
Those present included Bishop Torkom Donoyan, Vicar General; on behalf of the prelate, Archbishop Moushegh Mardirossian, Rev. Fr. Ghevont Kirazian; representatives of the Armenian Revolutionary Federation Central Committee and local Gomideh, members of the Hamazkayin Central Executive Board, and representatives and members of other organizations.
The library hall was decorated with banners that fit the theme of the day. On the stage were sample books and portraits of the honorees. There were also carpets and other objects representing Armenian culture.
Before the program started, a moment of silence was observed for the lives lost in the earthquake that struck Armenia 31 years earlier.
The program opened with "Hayr Mer" (Our Father), as arranged by Gomidas, performed by the Hamazkayin "Arpa" Choir. The choir, part of the "Hovhannes Tumanian" Chapter, has been in existence for a year and is directed by Dr. Ellips Masehian.
Seta Krikorian, a member of the Hamazkayin Regional Executive Board, served as emcee. She said, on behalf of the board, that 1869 was "blessedly fecund and fruitful" for the Armenian nation. "The four pinnacles of Armenian talent are celebrated tonight and we are fortunate to be able to do that after 150 years and bow before their legacy and the cultural values they left behind," she said.