Europe
Regional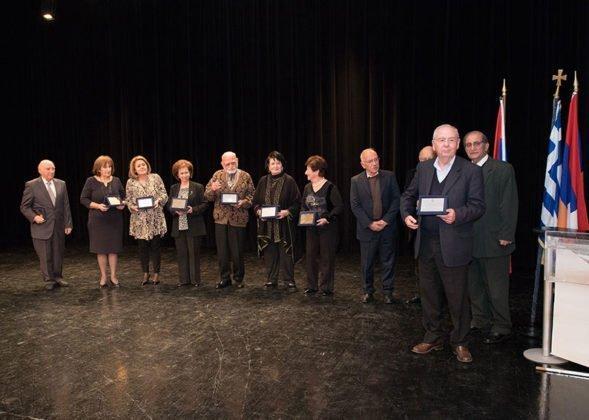 The ninetieth anniversary of Hamazkayin was celebrated on November 24 at the Anna & Maria Kalouta Theater in Neos Kosmos, Athens.
The program began with a video presentation, prepared in Armenia, dramatizing the initial gathering in Cairo of a group of intellectual friends who started Hamazkayin (Shant, Aghpalian, Ipegian, Ohanjanian, Stepan Yesayian, Minas Khachadurian, Setrag Balekjian, Hagop Balekjian, Sarkis Malkhasian, and others).
Later in the program, a second video covered the founding of Hamazkayin's Greece region and its activities from the old days to the present.
Honoring the anniversary with their presence were Hamazkayin Central Executive Board chairperson Meguerditch Meguerditchian, A.R.F. Central Committee of Greece representative Kerovpe Ekizian, representative of the National Executive of Greek Armenians Takvor Hovagimian, A.R.S. Central Executive Board member Liza Avakian, A.R.S. Regional Executive Board chairperson Lizet Kirazian, chairpersons of the Homenetmen Regional Executive Board and chapter executive boards, the Central Executive Board of the A.R.F. Youth Organization of Greece, other organizational representatives, and the spiritual leader of Armenians in Athens Rev. Hrair Nigolian.
The emcee was Arshaluys Saprichian, secretary of the newly elected Regional Executive Board.